CPQ stands for configure, price, quote and is a software that enables sales reps to win deals by shortening and simplifying the process of generating sales quotes.
Take these two stats into consideration:
Businesses that are first to produce an accurate, complete quote win the deal 60% of the time or more. (

Forbes

)
Sellers not using CPQ software take 73% more time to produce a quote or proposal. (

Medium

)
The buyer journey may be long, obscure, and complicated, but by the time a prospect engages with a vendor, speed in the flow of information is critical. A CPQ tool helps with that: a quick turnaround to create a price quote.
In this blog post, we'll look at the most common questions around CPQ.
What are the benefits of CPQ?
There are multiple benefits to using a tool that automates customized quotes, but here are the top three:
Save time


With sales reps only

spending 35% of their time actively selling

, every minute counts. Enabling them to reduce their time spent on administrative tasks like manually creating complex pricing tables for each proposal will give them more focus to execute energy-consuming tasks like prospecting and a faster response time to requests for proposals (RFPs).



Generate error-free quotes


Typos, miscalculations, wrong currency, unapproved discounts… The list of potential mistakes from a manually-created quote is, unfortunately, quite large and can have a big impact on the annual contract value (ACV) or even closing the deal. Using Configure, Price, Quote software allows you to

eradicate human errors by 40%

and send out accurate price quotes.


Create a professional buying experience
No sales organization wants to send a business proposal that looks unprofessional to a prospect. Clunky price tables, wrong product names, outdated prices… Not to mention that sales reps have their own style of formatting, meaning one customer interacting with different account executives over time will have a different experience. CPQ streamlines the process and makes sales teams look more professional.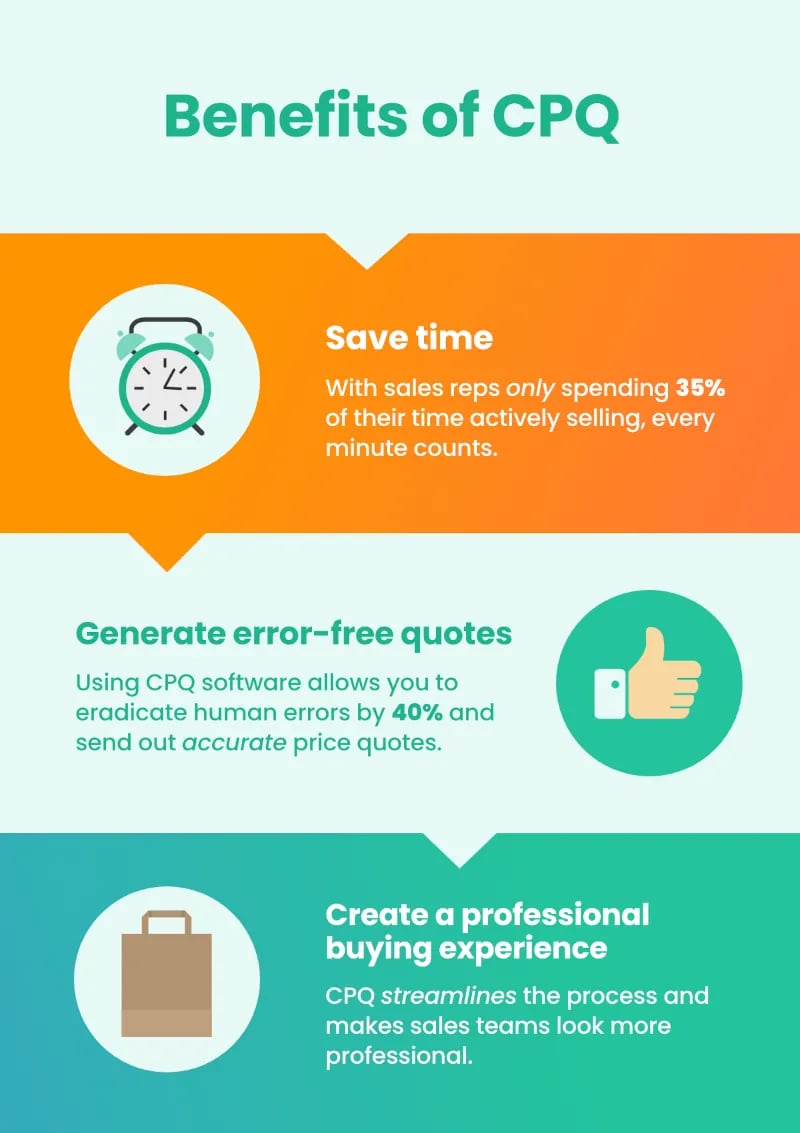 How does it work?
Every CPQ tool has its own features and variations, and every vendor will have nice-looking infographics with the full journey.
But there are three key components (hence the acronym):
Configure
The first component will be a product library or catalog to configure your products and services.
Without a CPQ, most sales teams use a spreadsheet that lists all their products and services, including product descriptions, product numbers, prices, etc. When engaged in putting together a proposal for a potential customer, a salesperson would copy-paste the information from the spreadsheet into their manually created pricing table to create a solution or a package they want to offer. CPQ acts as guided selling, helping a salesperson select the products/services from a product library to create customized solutions for buyers.
Price
Every company has its own pricing strategy.
Pricing is also impacted by a lot of variables. A CPQ tool will automatically calculate prices from the different products and services added to the proposal, considering any discounts or expenses (like VAT) added to the mix. For highly customized solutions, this saves a lot of time for sales reps (and potential calculation errors).
Quote
The Configure, Price, Quote software will generate a final quote, considering all the different variables. This will be the investment required for the potential customer. Some CPQ tools would also allow buyers receiving the business proposal to fill in themselves the number of units they would want for each line item, and the software would then automatically calculate the final price.
Additional features
More advanced solutions will have images incorporated within the product library. Sometimes, 2D imagery or drawings, but some even offer 3D visualizations of products. This is more common in sectors with a high volume of SKUs, like retail, commerce, and manufacturing.
End-to-end solutions will have a feature for seamless renewal processes that generate quotes for existing customers to try and lower churn. This also needs a bit more advanced pricing conditions to take into account-based pricing and loyalty discounts as well as upsell/cross-sell opportunities.
One of the benefits of having a configure, price, quote solution is the control it gives to sales leaders and sales operations managers in the sales cycle. Gone are the days when account executives offered crazy discounts. A CPQ tool will not only have limits on discounts, but some of them will have approval workflows to get sales managers to sign off on a discount before the quote can be sent to a customer.
To really make life easier for sales reps, some solutions offer a guided selling feature. In short, it will recommend products and services to sellers as they start adding from the product library based on the first initial products they select and on historical data; it would also inform account executives who inadvertently select incompatible products in one solution.
Is CPQ part of a CRM?
Yes … and no.
Most CRMs will have a CPQ function as part of their overall solution, the most famous one being Salesforce CPQ. This means that a rep can create a proposal and generate a quote without ever leaving the CRM.
There are also a lot of standalone solutions for those who don't use a CRM, but also standalone solutions that integrate with your CRM, meaning that a salesperson would still be able to complete most, if not all, of the sales process from within the CRM.
Top CPQ software
Head over to G2, Capterra, Trustradius, or other review platforms looking for the best CPQ solutions, and you'll notice there are a lot of options.
So, what are the best tools to generate quotes?
To help you out, here are 5 tools to consider, each unique in its own way:
Salesforce CPQ

Oracle CPQ

Conga CPQ

QuoteWerks

GetAccept
1. Salesforce CPQ

Salesforce needs no introduction as one of the leading and fastest-growing CRMs in the world. In 2015, it acquired SteelBrick to add a configure, price, quote element to its solution, whose top features include:
Orders & renewals

Approval process

Product configurator
2. Oracle CPQ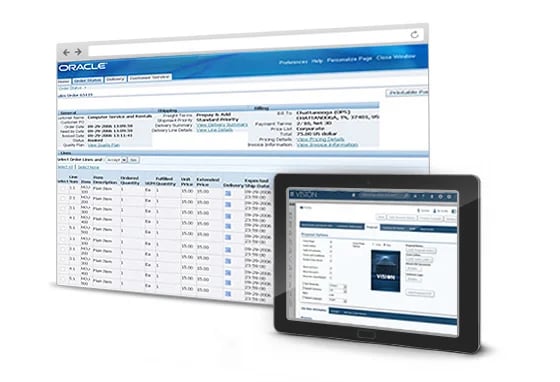 As the second largest software vendor in the world, it's no wonder that Oracle is in the CPQ business as well. The tool has a strong reputation for:
Drag & drop UI

Approval workflow

Pricing engine
3. Conga CPQ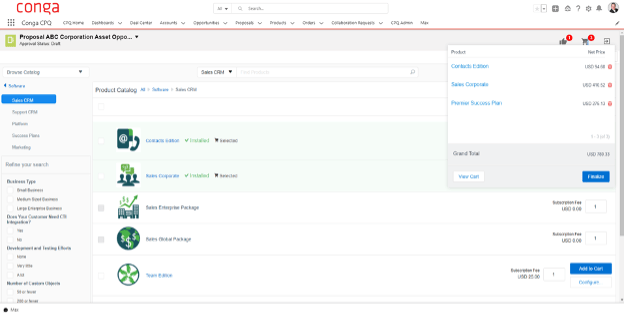 Apttus, a leader in quote-to-cash solutions, acquired Conga in 2020 to offer a full end-to-end solution for account executives. Some of the most appreciated features:
User-friendly
Advanced approval
Ability to price complex deals
4. QuoteWerks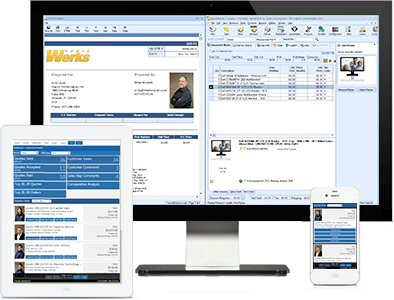 QuoteWerks is a specialized CPQ software that can be used in every industry to create sales quotes and proposals. Some of its top features include:
Good integrations
Easy quote creation
Set up quote templates
5. GetAccept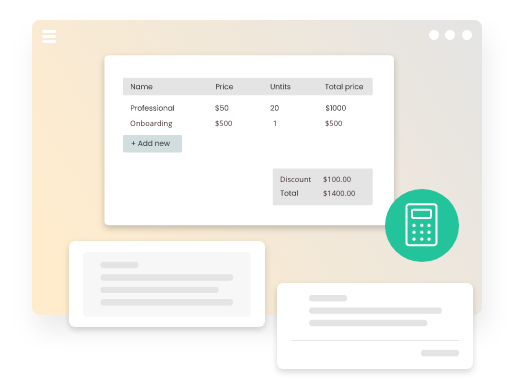 GetAccept is a digital sales room that helps revenue-driving teams engage and understand customers to hit quotas. Some of its most popular features related to CPQ are:
User-friendly interface
Handles multiple currencies, with parameters on discounts, VAT
Speed of getting quotes out to customers
Learn how GetAccept's CPQ solution works specifically for sales leaders, sales operations managers, and account executives.
Is it for me?
The quick answer: CPQ simplifies the quote generation process, so it is for you if your current process is complex.
If you struggle with any (or several) of the following:
Large or growing sales team
Large or growing product catalog
Complex pricing structure
High volume of business proposals sent
Then, having a tool to automate custom quote generation will be beneficial. When looking at the solutions above, it's also important to consider what level of complexity you need from a CPQ tool.
The more products or SKUs you have, the more you will need more advanced features to create approval workflows and calculate complex prices.
However, if you simply have a large sales team and/or a high volume of proposals sent but a smaller product catalog, you will want a simpler, easy-to-use solution (that has good integration with your CRM).
CPQ is all about efficiency. Make your sales cycle more efficient, but not at the expense of your account executives.