Social selling means using social media to sell. However, you're not always literally selling your products via social media channels.
Social selling is more the process of creating, developing, and nurturing relationships as part of the sales process. Social selling is part of the larger process of relationship building, prospecting, communication, presenting, closing, and following up.
When it comes to sustainable success, social selling plays a significant role in the post-pandemic digital sales process. Instead of spending hours on the road, you can now meet buyers where they are without ever having to leave your bedroom by leveraging social media way more effectively.
According to McKinsey's research, 75% of buyers now prefer digital self-serve and remote human engagement over face-to-face interactions. Putting effort into building a social media presence is a wise investment.
Not active on social media yet? Don't panic; it's never too late to start! Creating an authentic presence online helps you connect with more potential partners and buyers.
How to get started with social selling
Daniel Disney is one of the world's leading social selling experts and author of the bestselling book "The Million-Pound LinkedIn Message." He's got almost 800,000 LinkedIn followers and millions in revenue closed, out of which one million directly from LinkedIn generated leads.
According to Daniel, you need two core things to become great at social selling: consistency and creativity. You need to show up every day with content and insights, and you need to find creative forms to help convey those insights in a way that connects with people.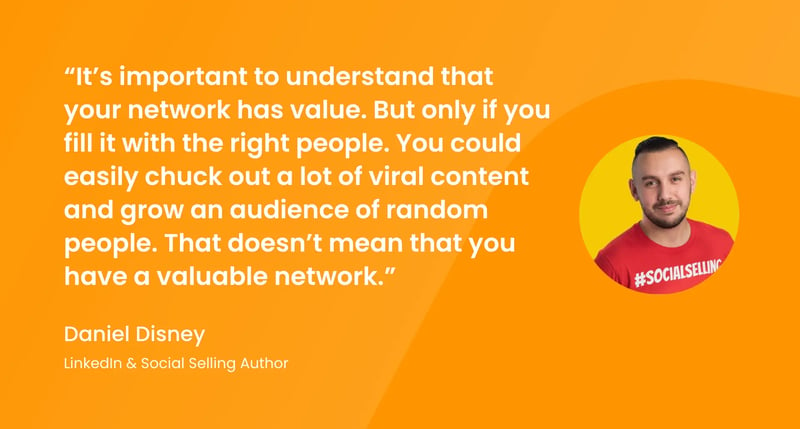 To create a valuable network, you can manually request to connect with people or build a personal brand. Manual growth is good because you can directly connect with your target prospects and other relevant people in the industry. However, this requires a lot of dedication, and it's not a scalable approach.
Grow your network and personal brand by sharing content regularly, but you need to offer value that reaches beyond your established network and attracts prospects to connect with you.
Make sure you focus on quality content and outreach over quantity. You can spam people on social media, but chances are you're not going to get the results you want. Instead, try to find the right people who are genuinely going to benefit from your services and solutions and build credible long-lasting relationships with them.
If you're new to social selling, Daniel recommends spending 30-60 minutes a day on your target audience to get started. Focus on growth, add new people to your network daily, and put time into creating original content and engaging with other industry-relevant content.
Get your name out there and start building your brand!
Set goals and measure results
Measuring the right social selling metrics to know that you're on the right track is very important. Daniel suggests reverse engineering and working your way back, ensuring that your focus reflects the desired outcome. The ultimate goal is to drive sales revenue and close deals through social media.
Focusing solely on followers is not a good idea. It's easy to get followers, but the quality of those followers is what matters most, not the quantity.
Focus on the sales target and work your way back. Look at other metrics such as pipeline opportunities, messaging and communication, personal brand, network growth, gross impressions, likes, content engagement rate, and prospect referrals. These are the metrics you can measure.
You can also look at the Social Selling Index (SSI), LinkedIn's system that measures how effective you are at social selling. It helps encourage engagement and establish goals for performance.
Having a good SSI score means that you're doing a good job when it comes to interacting with prospects and customers, warming up leads, sharing insightful industry-related content, and making the most out of the social platform. The higher your score, the more likely your efforts will bring positive results.
The LinkedIn rockstar era
If you can figure out how to use LinkedIn authentically, you will put the roots down for your business for the next 5-10 years. It's not going to happen overnight, but if you're consistent, you will be remembered.
Individuals and brands are producing a lot of excellent LinkedIn content now. The pandemic accelerated the rise of LinkedIn rockstars and sales celebrities.
GetAccept Sales Director Jason Baskaran warns aspiring sales reps not to stare at their LinkedIn feed too long. Don't wake up in two years and realize that you could have been a social media sales rockstar.
Sales Confidence founder James Ski has the advantage of having spent three and a half years working for LinkedIn in London. James used to be the #1 social seller on LinkedIn globally, so he knows a few things about using the platform as a sales tool. He highlights that LinkedIn is great for networking, but fundamentally it's a messaging platform, and you need to add value to the people you're contacting.
James' top tips:
Always put a personalized message in your connection requests
Comment on your prospect's content;
Get attention by approaching your prospects from all angles
Be hyper-visible in their LinkedIn feeds
Contacting someone on LinkedIn is not enough.
You constantly need to be active in your prospect's feed, in their content, and what they're sharing. Comments are the primary driver of visibility on LinkedIn. If you just like someone's content, it appears alongside dozens or hundreds of other people that have liked the same comment.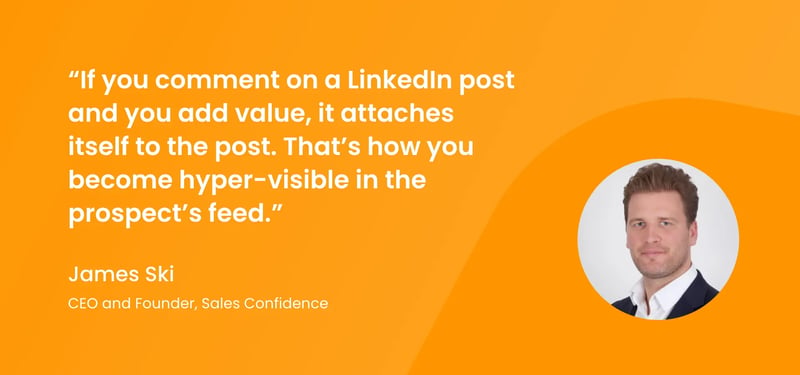 You might be spending all day on LinkedIn, but the time a prospect is online might be an hour a week or an hour a month. You have no idea when they will show up, so you have to be active every day. That way when your prospect does check LinkedIn, they can see that you've engaged with their content.
You can't expect a response after the first comment or message. You need to be persistent, which means following up multiple times for weeks and months. A true rockstar is always on tour!
Use various platforms
Whether you're starting a conversation, following up, or offering value through content, LinkedIn is a great tool. However, single-channel prospecting is a thing of the past. Why would you only rely on one channel? Open with a LinkedIn message and then book a phone, a face-to-face meeting, or a video conversation.
LinkedIn is extremely popular right now, but it could be harmful to neglect other channels. Sales is a lot like marketing. You want to gauge attention by surrounding your prospects with different platforms. Just because your prospects aren't replying via email or LinkedIn, doesn't mean your prospects haven't seen your messages. They might have been busy and didn't get the chance to get back to you.
Starting a YouTube channel
If you want to see some staggering numbers, let's take a look at YouTube:
Every day, over a billion hours of video is watched on YouTube
YouTube is the world's second-largest search engine and second most-visited site after Google
Users upload 500 hours of video (5) every minute
Everyone is so focused on LinkedIn that not so many businesses have exploited this golden opportunity hiding in plain sight. While LinkedIn gets diluted with all types of content, YouTube has only one thing in focus: video. You already know that videos help you engage with your audience on an emotional level. They can help you build your brand identity, build trust and forge deeper relationships with your audience.
As a bonus (and your marketing department will be thrilled about this one), YouTube also helps to boost your organic search engine rankings. Google includes videos in the search results, often ranking higher than standard website results.
Like any other platform, the first step of creating a successful YouTube channel is building trust. One of the best ways to build trust is to provide value and high-quality content without asking for anything in return. Nadja and her team at lemlist, a cold email software and outreach automation tool, are doing just that with their "Nadja & Simon" YouTube channel.
The idea of starting a YouTube channel came as they planned to expand their outbound sales efforts to the US market during the pandemic – a massive challenge that many companies around Europe struggle with. They noticed there were no handy "How to" guides available, and there's no easy way to replicate success for European companies in the US market.
Nadja and her team decided to expand their outbound to the US market and document every step of the journey. They didn't have any clear expectations of how it was going to work out, but after the first few videos they shared, a lot of leads came their way. The audience felt inspired and could even implement some of their shared techniques. People praised the authenticity of the videos, showing their struggles and challenges. This type of content is something many businesses could relate to.