Integrate your Freshsales with GetAccept to start tracking and e-signing your sales documents right inside your CRM to close more deals faster!
Freshsales is an online, cloud-based CRM for high-velocity sales teams, who need quick context about their prospects and customers. And GetAccept is a sales engagement solution with document tracking and electronic signatures that helps you get your prospects more engaged with your deals.
We are proud to announce that these two great tools are integrated today, and now you will be able to use GetAccept right inside your Freshsales CRM to close more deals, faster! But how does that work and what's in it for you?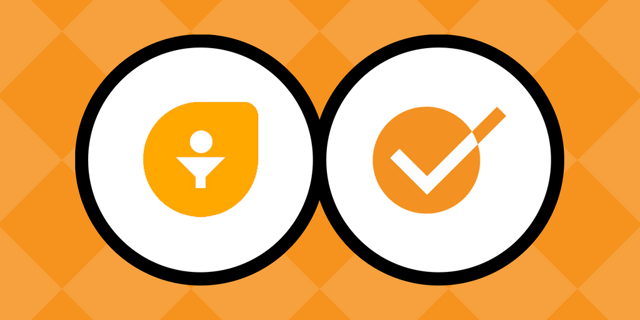 Get Real-Time Insights And Hit Perfect Timing
When you want to send a sales document (like a business proposal, quote, presentation, contract, etc.) to your prospect, you typically attach it to your email inside your Freshsales. After you send your email, the only notification you get is when the recipient opens that email. But with document tracking you get real-time notifications when your customer views, downloads, prints, and forwards your sales collateral, which helps you hit perfect timing with your sales follow-up.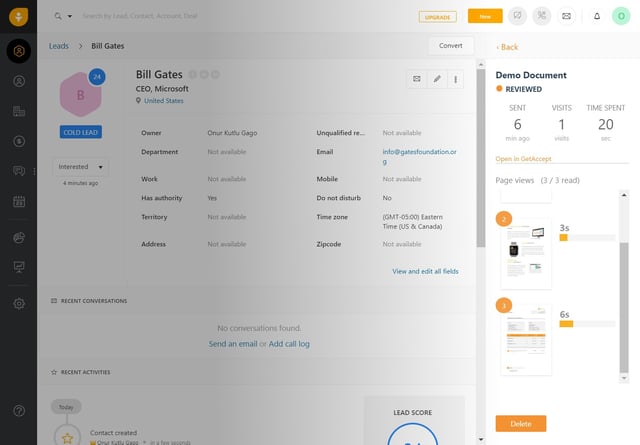 Get Real-Time Insights When Your Lead Reads Your Document
Increase Customer Engagement And Win Rate
Studies show that by sending a personalized video introduction to your customer, you can increase your chance to close that deal by 41%. With GetAccept, you can shoot and attach a video to your sales collateral, directly inside your CRM. It creates a personal touch and a lasting impact on your customer, when they see your video before reading your proposal.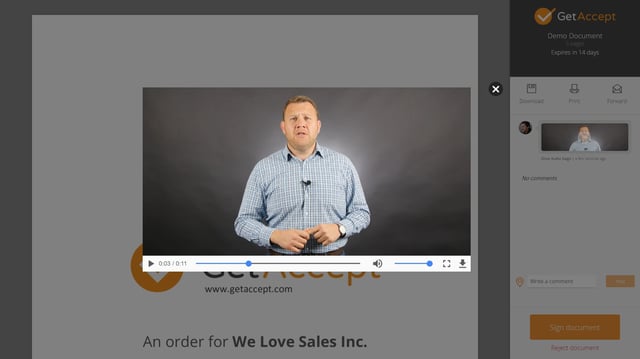 Send A Personalized Video Introduction To Your Customer
Once your prospect starts reading your document, you will instantly get notified, and you can initiate a live chat with him directly on the document. This real-time communication will dramatically increase your engagement and give you the ability to answer his questions and clarify his objections, just on time.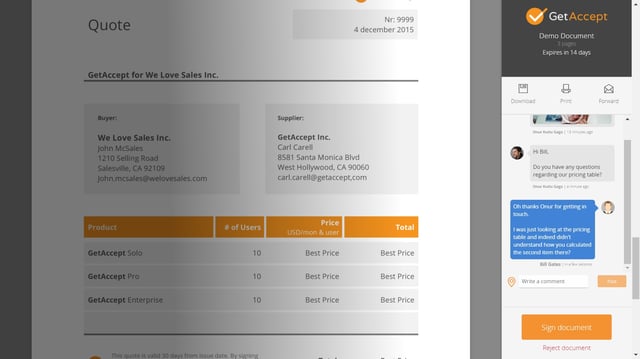 Have A Live Chat With Your Prospect Directly On The Document
Shorten Sales Cycle With Electronic Signatures
Do you still scan and email your documents to be signed on paper? Getting all parties to put their signature on a document is often one of the biggest bottlenecks when closing a deal. With GetAccept you can start using legally binding electronic signatures right inside your CRM, with no additional setup or cost. This will both shorten your sales cycle and increase your hit rate!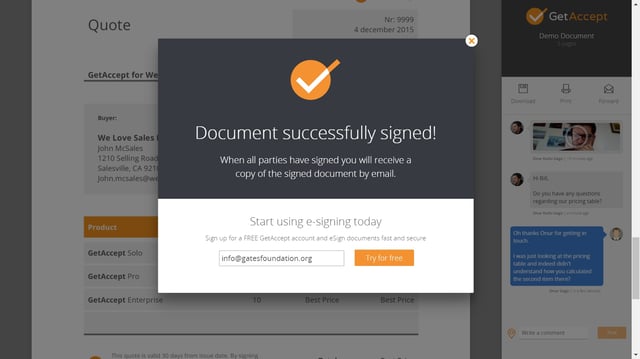 Your Customers Can Legally E-Sign Your Proposals
Save Time Working With Documents
Several studies indicate sales reps waste a lot of time, switching back and forth between different tools. A typical example is when you work with sales proposals or quotes. To prepare the document, unless you have a proposal software, you have to manually enter customer details. And if you close the deal, when you receive the signed copy of the contract, you manually upload it to your CRM.

With our two-way integration, your sales team can save a lot of time, eliminating manual processing. Firstly, by using templates, you can automatically populate your sales documents with the contact information from Freshsales. And secondly, when your customer e-signs the document, the signed copy will automatically be pushed back to your CRM. No hassling!

Want to learn more about integrations? Read our integration guide here.