We've released a lot of updates for the new year and want to give you a quick overview of the latest and greatest! February's updates include:
Improved email messages on live chat notifications
Improved and added engage features helping you close more deals
New field and template workflows to speed up your send outs
Let's dive in!
Better Overview of the Chat Messages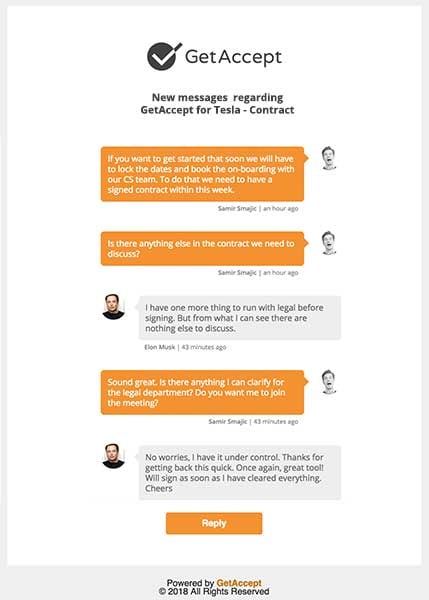 Staying up to date with notifications is great, but sometimes you can receive too many. Before, every chat message triggered an email to your inbox. Now, it detects you're in a conversation and will wait to summarize the entire chat until it has gone silent. This saves your inbox from blowing up and gives you a better understanding of the discussion.


New CRM Integrations
We're continuing to release new and amazing CRM integrations. The two newest are Pipedrive and Upsales. Start all your document workflows right from your favorite CRM and analyze the recipient's engagement as they open and review the send out. Use your uploaded GetAccept templates, populate them with data from your CRM, and deliver them to collect the signature. All the activity is of course saved right where it belongs; directly in your CRM.


Improved and Added Engage Features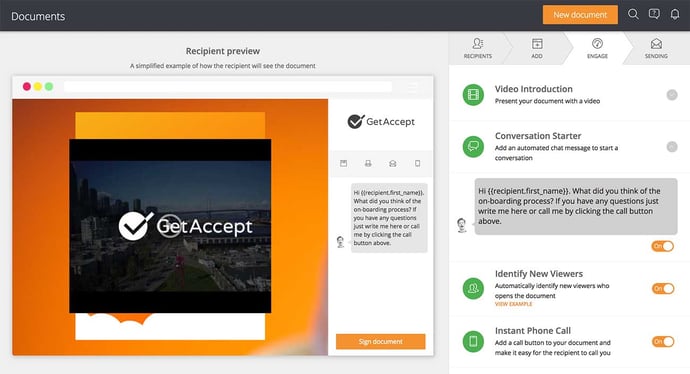 One best practice of successful sales leaders today is engaging your potential clients throughout the whole sales process. However, continuously adding value throughout your entire sales cycle can be challenging... right? We don't believe so and now we've made it even easier for you to communicate and engage with your recipients when you deliver send outs!
Video Introduction
Record a personalized video or use a pre-recorded video to introduce your documents. Cause less confusion by summarizing long documentation or leave a lasting impression with a personal message after a meeting.
Live Chat
Start conversations with your recipients with perfect timing by sending an automated message to them right when they are looking at your document. Ask them a question or let them know what needs to be done to continue the process.
Instant Phone Call
Do you want to make it as convenient as possible for your recipients to reach you by phone? With our click-to-call feature, you will conveniently be able to be reached right within the send out at the click of a button.
Identify New Viewers
When you send a document to someone, there is a very good chance they will share it with others. Now you will know if anyone else tries to open your document as they'll have to authenticate themselves for security measures. This gives you the upper hand when there are multiple decision makers involved in a deal.
Manage Fields with Ease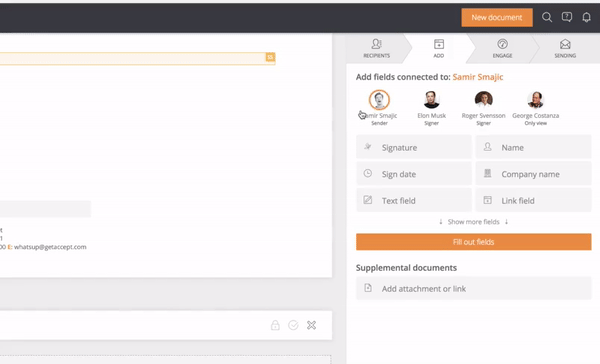 We have improved the workflow when adding and connecting fields to recipients. First, choose the recipient who should be assigned to the field. Then, quickly drag and drop the field where you need them to fill it in. Repeat this process for each recipient and your document will be ready to send out in seconds!

Give these new features a try and let us know what you think!