Professional development is paramount for sales teams, and books are a cost-effective way to improve operations team-wide. Here are our team's favorite sales leadership books, each one with cutting-edge insights for effective sales leaders.
Looking for a way to bring your remote sales team together around a shared set of ideas and frameworks? Books might be your answer!
Sometimes pricey online certifications and conferences just aren't a match for sitting down with a good book, one that you can keep coming back to time and again. Professional development doesn't have to be expensive.
Reading a leadership book might seem like a time-intensive exercise at first. Science, however, has a lot to say about the cognitive benefits of reading: reading strengthens your brain, reduces stress, and improves your ability to retain information and concentrate on new tasks.

Whether you're a seasoned sales leader or new to the world of sales, these 15 books are sure to offer something new you can take back to your team.
Tip: if you prefer podcasts, you can also check out our list of the best sales podcasts to follow in 2023.
1. More Than a Number:
The Modern VP Sales Playbook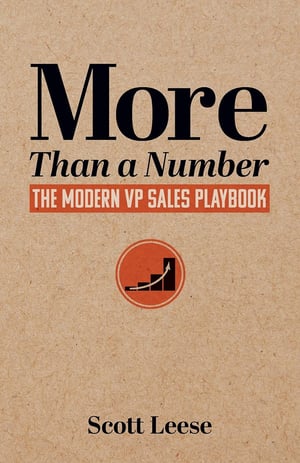 Author: Scott Leese
Year published: 2021
Why we love it:
You're going to see Scott Leese appear more than once in this list because he's just that good at helping people around the world understand sales management essentials.

What makes Leese so qualified? He has a decade of sales leadership experience and runs his own sales consulting company, Scott Leese Consulting, LLC.

In "More Than a Number," Leese hones in on the specific actions and skills all sales leaders need to ensure team success beyond just the numbers.

If you're about to move into a VP of sales role, are a current VP of sales looking to level up your team, or just want to have these skills under your belt for when that time comes, this book is for you.

2. The Challenger Sale:
Taking Control of the Customer Conversation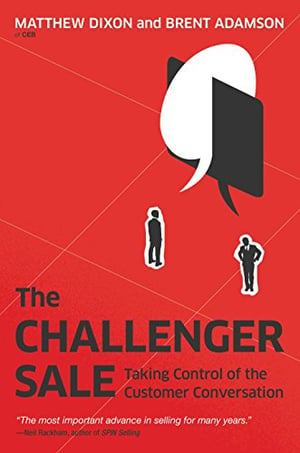 Authors: Matthew Dixon and Brent Adamson

Year published: 2011

Why we love it:

This book will change the way you think about sales. Sales leaders looking to shift their team's mindset and close more deals will learn a lot from Dixon and Adamson.

In "The Challenger Sale," Dixon and Adamson shift focus away from relationship-building and towards adding value for customers by replicating the tactics of so-called Challengers.

This book will help you understand what makes the Challenger so successful, how to identify Challengers in your own organization, and how to implement those strategies team-wide.

Get the book
3. Fanatical Prospecting:

The Ultimate Guide for Starting Sales Conversations and Filling the Pipeline by Leveraging Social Selling, Telephone, E-Mail, and Cold Calling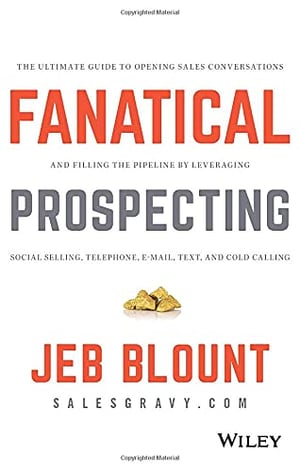 Author: Jeb Blount and Mike Weinberg

Year published: 2015

Why we love it:
Jeb Blount, CEO of Sales Gravy, Inc., is another repeat author on this list. In Fanatical Prospecting, sales leaders can find innovative ways to fill their pipeline.

Sales leaders can learn techniques for leveraging different channels such as phone, email, and social selling that they can bring back to their teams.

Blount is a popular keynote speaker and sales leadership trainer whose company, Sales Gravy, offers sales enablement solutions for team leaders and sales reps.

Reviews find Fanatical Prospecting motivating and an effective 'how-to' guide for prospecting through a diverse array of channels.

Get the book

4. Gap Selling:
Getting the Customer to Yes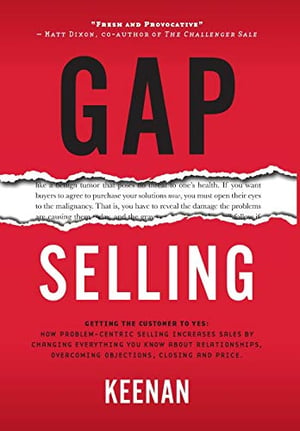 Author: Keenan

Year published: 2018

Why we love it:

If you feel like your team is in a rut, struggling through the same modes of selling, Keenan is here to disrupt your outlook.

By "selling to the gap," sales teams can revamp their processes from prospecting through to closing.

Keenan is CEO and "Chief Antagonist" of A Sales Guy, a website that creates helpful content for sales teams, published Gap Selling in 2018.

Gap Selling has over 500 5-star reviews on Amazon, with readers applauding the way Keenan dispels many common sales myths with wit and honesty.

Get the book

5. The 1-Page Marketing Plan:

Get New Customers, Make More Money, and Stand Out From the Crowd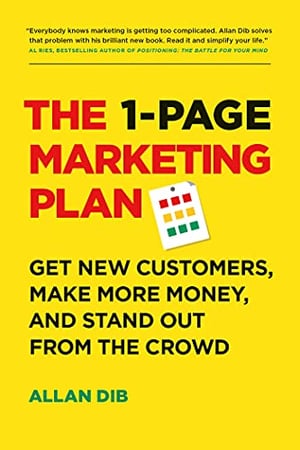 Author: Allan Dib

Year published: 2018

Why we love it:

The gap between sales and marketing functions is shrinking. Sales leaders that are involved in marketing strategy will be able to bridge the gap between the two teams.

In The 1-Page Marketing Plan, sales teams learn how marketing teams move beyond "random acts of marketing" by creating strategies for driving revenue.

Sales leaders can use insights from the 1-Page Marketing Plan to understand the path to market dominance and increase alignment with marketing teams.

Get the book

6. Hope Is Not a Strategy:

The 6 Keys to Winning the Complex Sale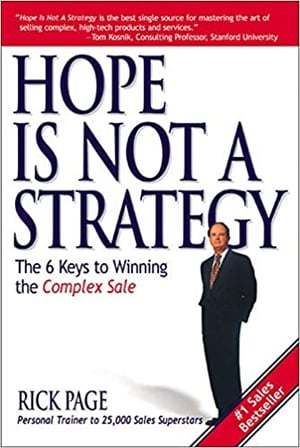 Author: Rick Page

Year published: 2003

Why we love it:

Rick Page's "Hope Is Not a Strategy" is a classic for a reason. Even though it was written almost 20 years ago, it still contains valuable lessons for current and future sales leaders to close more deals with strategic sales thinking.
The buyer's journey has become even more complex in the last 18 years, and modern sales cycles need to adapt. Page walks readers through the "Complex Sale" in an evolving business environment and provides strategies to sell beyond just an initial purchase.

Reviewers recommend "Hope Is Not a Strategy" for sales team leaders and individual sellers alike.

Get the book

7. The 10X Rule:

The Only Difference Between Success and Failure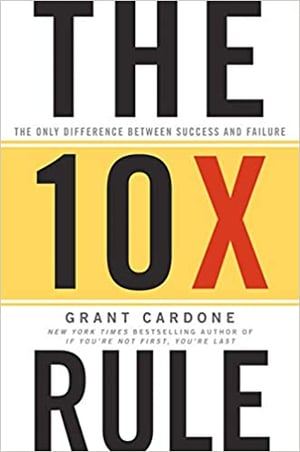 Author: Grant Cardone

Year published: 2011

Why we love it:

"The 10X Rule" is a favorite of many startup leaders and founders. It has practical applications for many teams and departments, but sales leaders can use "The 10X Rule" to motivate their teams and connect their work to larger organizational goals.

The principle of "The 10X Rule" is simple: set goals that are ten times where you are right now. Doing so can help sales teams set and meet ambitious goals beyond what they originally believed to be possible.

If your sales team needs an inspiration boost, add this one to your reading list.

Get a copy

8. Grit:

The Power of Passion and Perseverance
Author: Angela Duckworth

Year published: 2016

Why we love it:

Most sales leaders know that sales is not an easy industry, and sometimes it isn't for everyone. "Grit" shows us that through passion and persistence, anyone can succeed in a tough business environment.

Author Angela Duckworth's insights on performance in challenging environments landed the book on the New York Times bestseller list.

Sales leaders can use "Grit" to help their teams define a clear vision of success and how to get there, even if you're not a 'natural' at sales.

Read the book

9. The Ultimate Sales Machine:

Turbocharge Your Business with Relentless Focus on 12 Key Strategies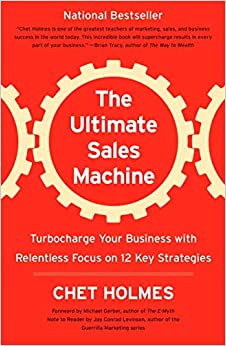 Author: Chet Holmes

Year published: 2008

Why we love it:

For Chet Holmes, less is more. "The Ultimate Sales Machine" teaches sales teams that focus on a few areas of skill development is always better than going overboard with every sales strategy on the planet.

Sales leaders looking to refocus their sales strategy can benefit from Holmes's expertise and advice. Read "The Ultimate Sales Machine" if you're looking to increase your team's focus and discipline on the strategies that help you sell well.

Get the book

10. Start With Why:

How Great Leaders Inspire Everyone to Take Action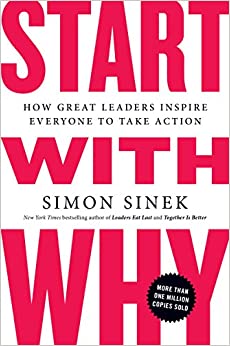 Author: Simon Sinek

Year Published: 2009

Why we love it:

Simon Sinek has one of the most popular TED talks of all time. In "Start With Why," he expands on his talk and helps leaders across industries get to the heart of their "why."

New sales leaders will especially benefit from Sinek's leadership lessons, including that the greatest leaders throughout history were the ones who strayed from the beaten path and charted their own course.
By starting with why sales leaders can improve not only their connections within teams but also connections with prospects and customers.

Buy the book
11. Addicted to the Process:
How to Close Transactional Sales with Confidence and Consistency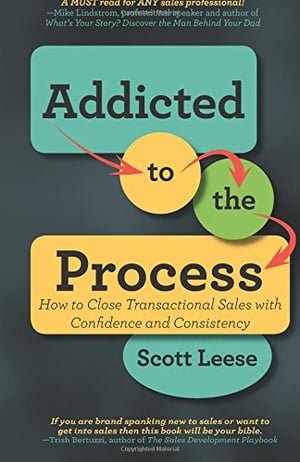 Author: Scott Leese

Year Published: 2017

Why we love it:

"Addicted to Process" is a great read for sales leaders looking to build confidence among their sales reps, or for sales mentors to help new salespeople establish habits for effective selling.

Leese focuses on some of the internal dialogue that holds salespeople back from achieving their goals. Use "Addicted to Process" to help break out of comfort zones that limit productivity and creativity on your team.

Read the book
12. You Can't Teach a Kid to Ride a Bike at a Seminar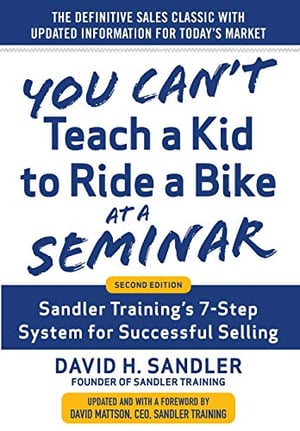 Author: David H. Sandler and David Mattson

Year published: 2015

Why we love it:

If you feel like the sales landscape is getting ahead of your process, this book is for you. Mattson and Sandler, leaders at SandlerTraining, know what it takes to build a winning sales team.

The latest edition of "You Can't Teach a Kid to Ride a Bike at a Seminar" has been updated to reflect the changing landscape of digital sales. Ultimately, it's a timeless system that sales reps can turn to again and again at any stage of their career.

Get the book
13. Let's Get Real or Let's Not Play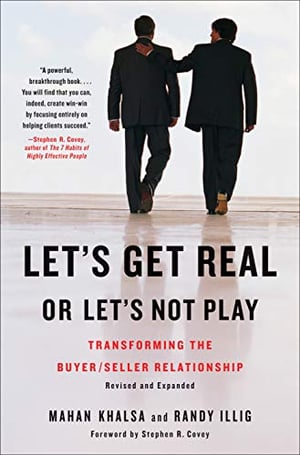 Authors: Mahan Khalsa and Randy Illig

Year published: 2008

Why we love it:

Skeptical buyers and wary sellers mean the buyer-seller relationship can easily become strained. Today's sales leaders need to know how to create a high-quality buyer experience in order to close more deals.

In "Let's Get Real or Let's Not Play," authors Khalsa and Illig provide a vision for an improved buyer-seller relationship that isn't founded on fear and skepticism.

Sales leaders looking to remove the fear from their buyer interactions can use the frameworks from the FranklinCovey Sales Performance Group to improve their team's success with prospects.

Get the book
14. Sales EQ:
How Ultra High Performers Leverage Sales-Specific Emotional Intelligence to Close the Complex Deal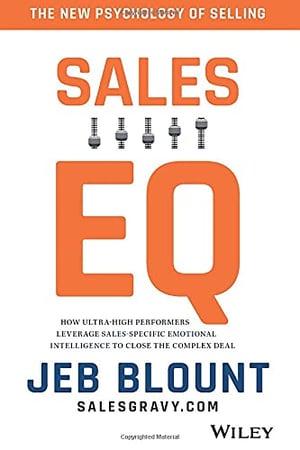 Author: Jeb Blount

Year published: 2017
Why we love it:

Emotional intelligence is a critical skill for any successful leader to learn. Turns out, the principles of EQ can also be applied to sales, and are even more important now in the age of remote work and remote selling.

Jeb Blount's "Sales EQ" equips sales leaders and reps with the tools to manage buyer relationships when buyers have more control over the buying process than ever.

Think of "Sales EQ" as an updated look at the psychology of selling that focuses on the modern buyer.

Read the book
15. Never Split the Difference:
Negotiating as if Your Life Depended on It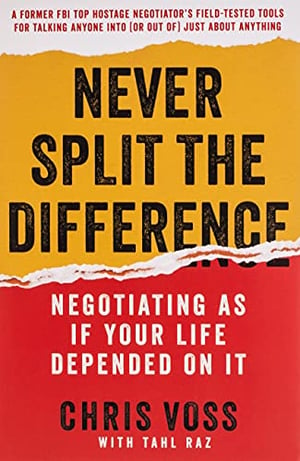 Author: Chris Voss and Tahl Raz

Year published: 2016

Why we love it:

You might be wondering why a book by a former FBI hostage negotiator is on this list, but "Never Split the Difference" has some valuable negotiation insights and tactics that modern sales leaders can take to their teams.

"Never Split the Difference" is perfect for sales professionals that want to take their persuasive skills to the next level with specific tactics and transformative life skills.

Read the book
These leadership books can expand your sales horizons
There's no shortage of books that can help sales leaders and their teams achieve new goals. These are our favorite sales leadership books, but the sky's the limit when it comes to professional development in sales.

A professional development book club is also a great way for remote sales teams to stay connected and share a common framework. Pick a book and set a date for your team to discuss together in-person or over Zoom.

Remember, you don't have to follow the methods of one book at a time. Exploring different sales strategies and approaches will result in a well-rounded sales process and well-rounded leadership.