Being in sales is easy.
Succeeding in sales is tough.
If you're not constantly learning and growing, you'll quickly fall behind. Fortunately, there are a ton of brilliant sales influencers out there who can help you level up your game.
In this post, we'll introduce you to some of the best sales brains you should be following. These thought leaders will help you become more resilient, close more deals, build better relationships with your customers, and generally become a better salesperson.
The role of sales professionals will continue to grow over the next few years since sales is a fundamental component of every business. So much so that more than 15 million people work in the sales industry within the US alone. That's about 5% of the total population! And that's a lot of salespeople in need of inspiration and knowledge.
Where to find that inspiration and knowledge? Luckily, hundreds of sales influencers are active on social media, sharing their struggles and successes one post at a time.
From panda huggers and fortune cookie writers to your retired grandma, everyone is on LinkedIn. The platform is no longer aimed at job seekers and recruiters. Individuals and businesses of all sizes use it for social selling. It's an excellent tool to reach potential customers and partners, stock up on inspiration, and learn from others.
To help you get started, we curated a list of 11 sales influencers you should start following ASAP. Read on to see which experts drive the most discussion around sales prospecting, diversity and inclusion, go-to-market strategies, and revenue growth.
Talks about:
leadership
cold calling
prospecting
sales development
Busy with:
Founder and CEO of JBarrows Sales Training, providing sales training and consulting services to companies around the world, working with organizations like Salesforce, LinkedIn, Amazon, and Google
Author of the children's book "I Want To Be in Sales When I Grow Up"
Host of the Make It Happen Mondays - B2B Sales Talk with John Barrows podcast
Running the John Barrows sales blog, full of valuable tips and advice for sales professionals
John has been in the business for over 25 years and is among the top thought leaders in sales today. He started his sales career selling power tools and copiers with Xerox, then moved on to sales training, where he started his own firm JBarrows. He's been the go-to sales trainer for tech companies like Dropbox, Salesforce, LinkedIn, and more. His world-class insights are invaluable for anyone looking to improve their selling skills.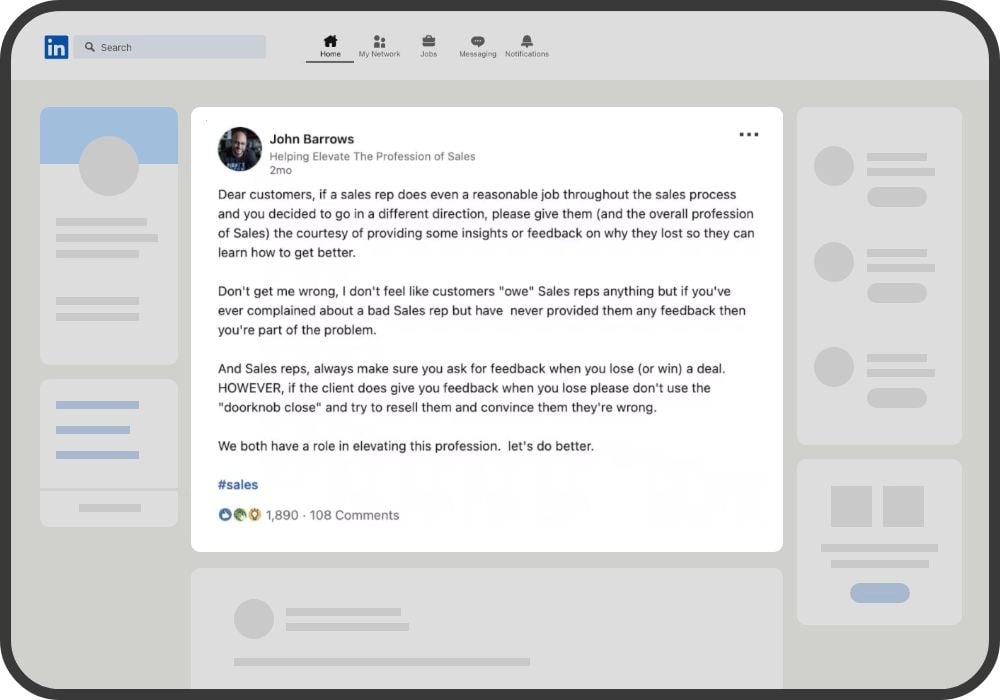 Talks about:
Busy with:
Chief Strategy Officer (CSO) at Sales Assembly
Co-Managing Director at VentureSCALE, an accelerator focused on helping B2B startups build sustainable sales
Host of the Taking the Lead podcast, where she interviews top female leaders who are at the forefront of revenue teams
In addition to her 15+ years of sales experience, Christina has also served as a leader for B2B tech companies for more than a decade. She's consistently led organizations to growth and profitability by taking a strategic, creative, and targeted approach. She's passionate about building culture, coaching, and developing leaders and top-performing sales teams. She's extra passionate about addressing gender inequalities in the tech space and driving change through concrete action. An inspiration to us all!
Talks about:
SDRs
revenue
personal brand
Busy with

:
Senior Vice President of Marketing at Clari
Kyle is a sales and marketing leader with a genuine passion for people development. He has a soft spot for mentoring SDRs, and he's a curious problem-solver, but he also enjoys creating and optimizing processes. Kyle frequently shares his reflections on sales and offers practical, no-nonsense feedback on how to find success and tame your prospects in the crazy jungle of sales. He sure knows the recipe for building a high-performing sales engine.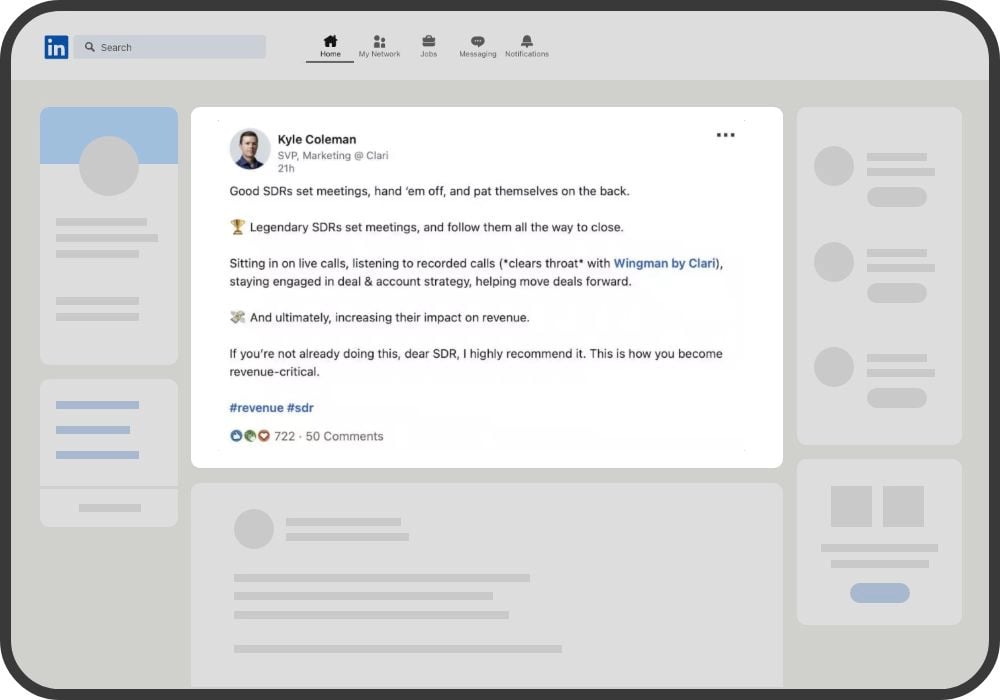 Talks about:
prospecting
cold emails
driving value
sales messaging
Busy with:
CEO & Founder of Flip the Script
Co-Host of Top to Bottom podcast (with Keenan), the best thing to ever happen to sales
Advisory Board Member for REGIE.io, Sendoso, Vendition, etc.
We're impressed with Becc Holland, who has built an exceptional career around helping others book more meetings, close more deals and drive more revenue by improving their messaging, cadences, and workflows. Through her free training videos, webinars, and personal sales coaching, she provides actionable advice and tips on becoming super relevant and improving your sales skills. An incredible entrepreneurial journey worth following!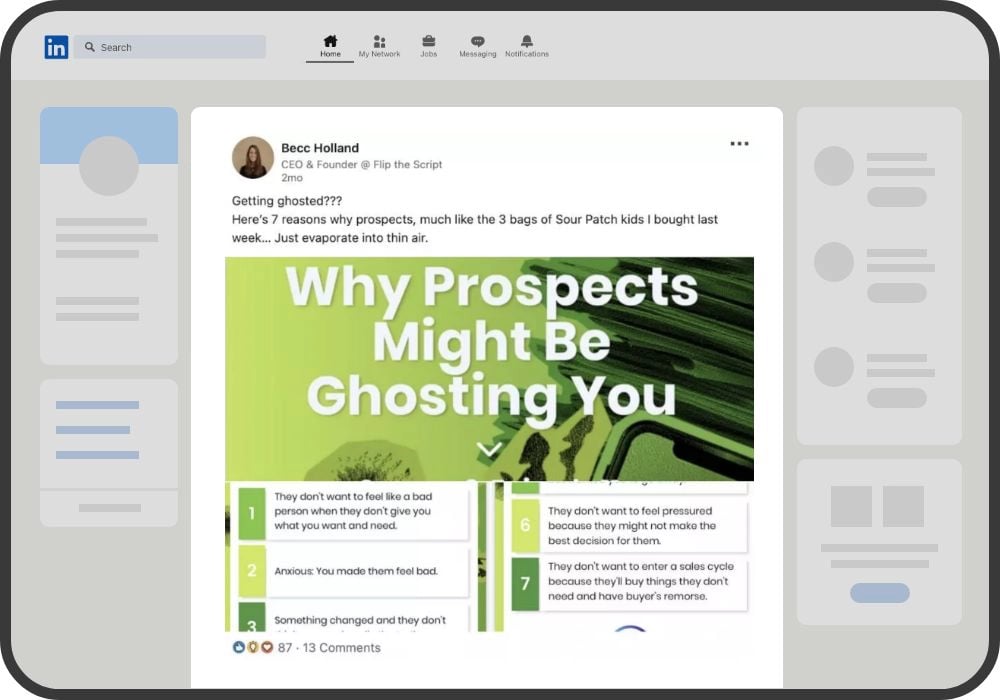 Talks about:
prospecting
LinkedIn tips
sales development
Busy with:
Former Vice President, GTM Talent and Development at Sales Impact Academy
Weekly Commi$h newsletter
Host of the 1UP Formula podcast
Co-Founder at Sales for the Culture
Strategic Advisor at Lavender and Upmarket
Where should we even start?! Morgan is a force to be reckoned with in the sales world, known for his high-energy and motivating approach to sales. Named LinkedIn Top Sales Voice for three consecutive years, Morgan got the secret sauce to help you succeed in sales, and he's definitely not afraid to share it with his audience. He's passionate about coaching sales teams to use the latest techniques that boost pipeline growth and turn even the most scaredy-cat into a confident sales rep.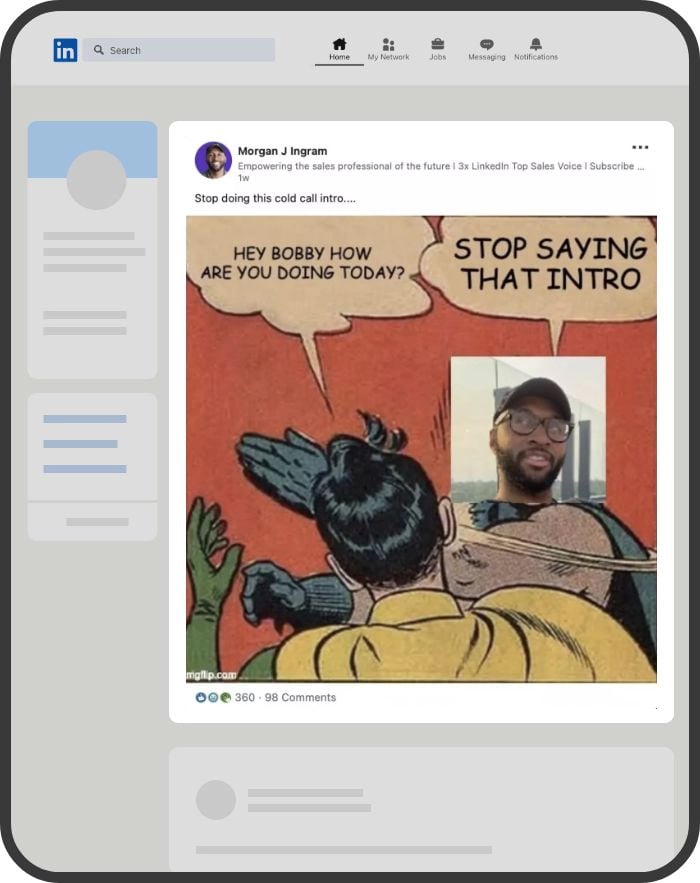 Talks about:
mindset
motivation
networking
personal brand
Busy with:
CEO (Chief Energy Officer) & Keynote Speaker/Emcee at LLJR Enterprise
Host of Midweek Midday Motivational Minute
Author of the book "Jolt!"
GTM Advisor at Navattic
Are you ready to be the best version of yourself? Worry not, because Larry is born ready to help you go from good to great. He's been coaching sales organizations for 15+ years, and there's not a dull moment when he's around. You can often find him at sales events or as a guest on various podcasts. His energy is contagious, and his sales tips are indispensable. He's passionate about sales training, team development, leadership, and sales motivation and has helped organizations of all stages to ignite their sales engine!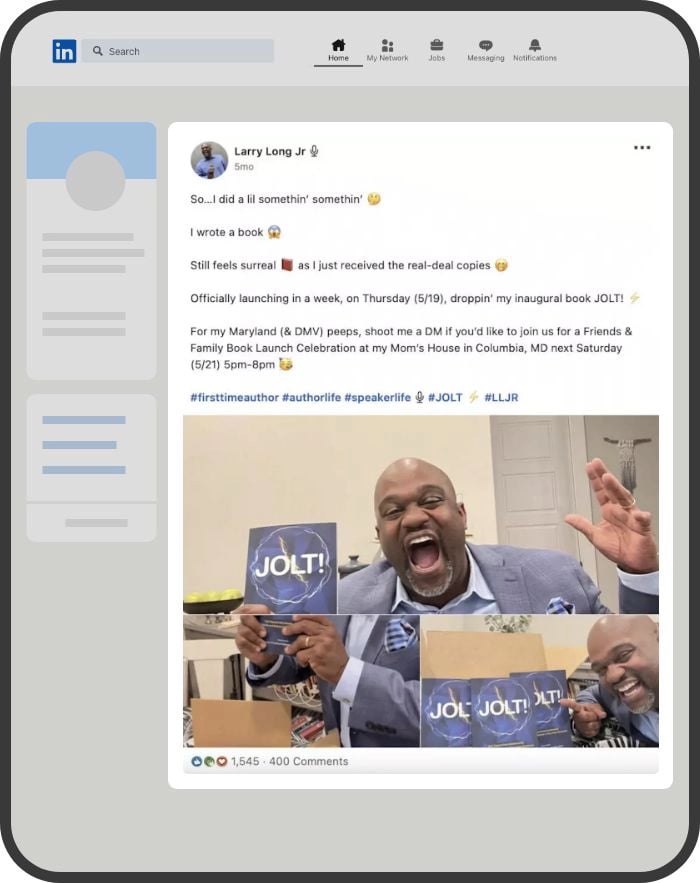 Talks about:
SDR
SaaS
Entrepreneurship
Personal brand
Show me you know me
Busy with:
Founder and soul of #samsales consulting, a consulting business that helps with every level of the sales process — from sales development to executive leadership
One of the most sought-after sales influencers, Sam McKenna, is on a mission to positively impact the sales business in every way possible. She's an award-winning sales leader, Former Head of Sales at LinkedIn, angel investor, and board member. Sam heads up #samsales, a 100% female powerhouse training future sales superstars. A dynamite expert on all things sales!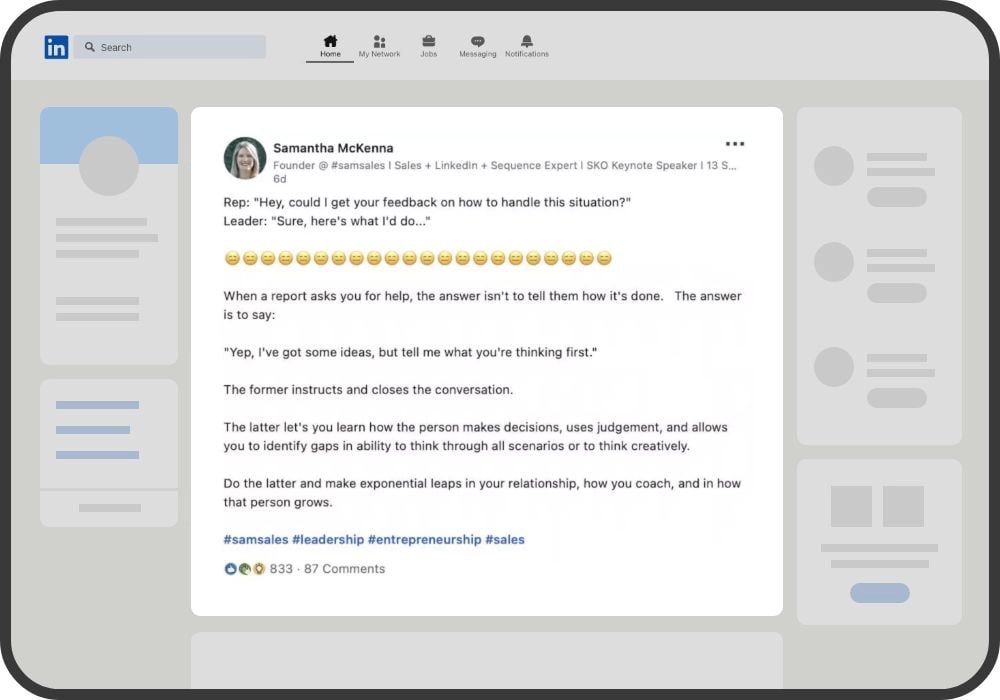 Listen to Samantha's episode on The Sales Ladder:
Talks about:
brand
sales
startups
marketing
prospecting
Busy with:
Founder of Request For Meeting
Creator of the Building A Startup web series
Former host of LeadIQ's The Prospecting Podcast
Ryan is on a mission to change the way sellers and buyers work together forever. He's trained thousands of sales reps in personalized prospecting and social selling and helped several startups scale their sales teams. He approaches a wide range of sales topics with tons of enthusiasm and a giant pinch of humor. And this might be off-topic, but Ryan often shows off his adorable corgis on his LinkedIn, so make sure to check out his profile! (Or wait… The power of cute has proven to be a great sales and marketing method… Shoot, Ryan really knows what he's doing!)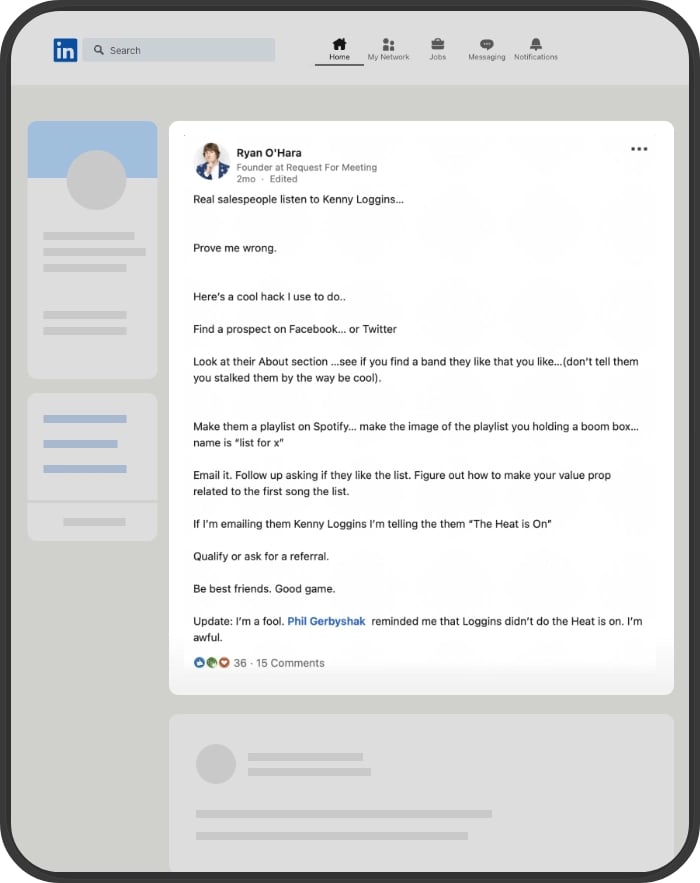 Talks about:
Startups
Go-to-market strategies
Building and scaling sales teams
Busy with:
As Former Vice President of Revenue at Dooly and Vice President of Conversational Revenue at Drift, Michelle knows a thing or two about early-stage startup life. She has a rich history of scaling sales teams and thoroughly enjoys helping modern startups build powerful, repeatable playbooks. If you've received a round of funding and it's time to grow, but you have no one to guide you on the next steps, Michelle is ready to help you build the foundation and the confidence you need on your exciting startup journey. She's a real fixer and not afraid to roll her sleeves up to help you succeed.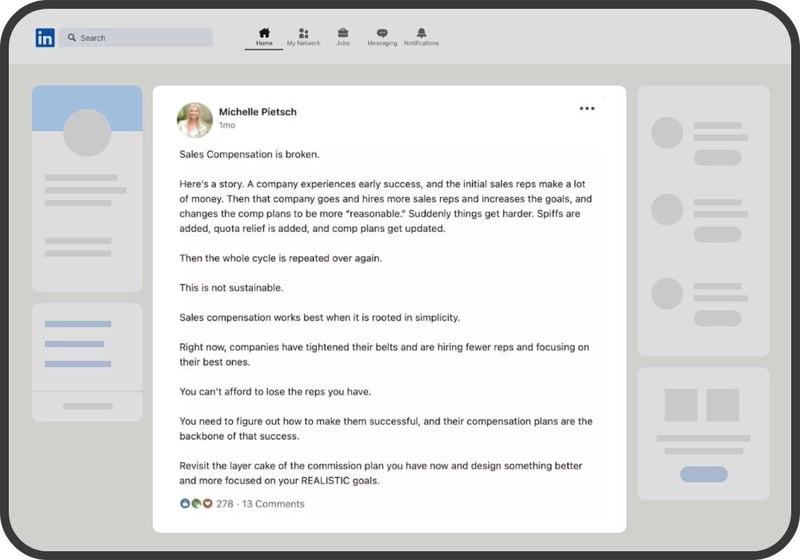 Talks about:
SDRs
SaaS
hiring
software
Busy with:
Vice President of Commercial Sales at Lob
Co-Founder of SDRDefenders
Ambassador at Pavilion
Investor at Spekit.
Josh Roth is somewhat of a legend in the modern sales development world. He's single-handedly made over 100,000 cold calls, carried a $1M quota of new business revenue (and surpassed it), and on top of that, he's never missed a monthly, quarterly, or yearly revenue quota. This Superman of Sales is a 2x winner of the AA-ISP Top Sales Leader Award, and just when you think it couldn't get any better… he even had two exits on the very same day. His achievements wouldn't fit on this page so let's stop right here. Whether you're an AE, SDR, SDR leader, sales leader, or in RevOps/SalesOps, there's a lot you can learn from Josh.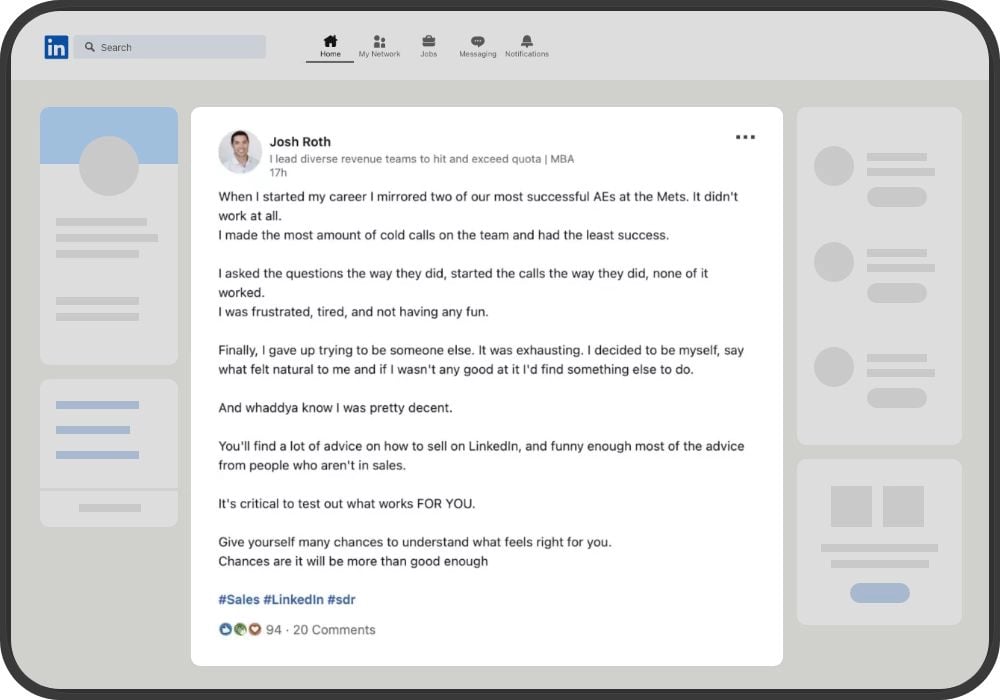 Talks about:
recruitment
startups
leadership
Busy with:
Founder and CEO of Avenue Talent Partners
Founder of Better Together with Amy Volas
Co-Founder of Thursday Night Sales
Host of the podcast Tales From The Field with Amy Volas
Named one of Sales Hacker's Most Dynamic Women in Sales and with more than $100m in revenue sold, Amy's current jam is helping startups hire executives – without the cringe. She's been in the startup sales business for decades and got really fed up with the harmful effects of mediocre recruiting. She founded Avenue Talent Partners to fix this vital part of the industry by helping startups find the right sales leaders who will make a difference. She's a fierce entrepreneur who doesn't take no for an answer!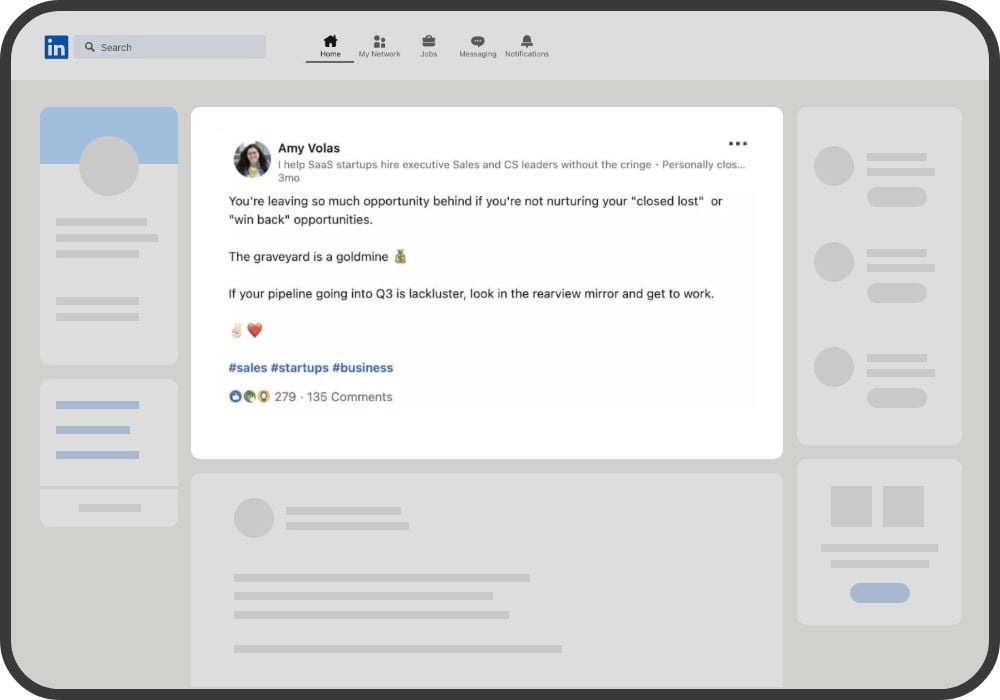 Final thoughts
While sales is a competitive landscape, it's not always about beating the competition!
There are a lot of professionals who are motivated to help others succeed and advance their careers. If you're unsure where to begin, we recommend checking out and following these brilliant minds. The future of sales looks bright with these fantastic people spearheading the movement.
Experience may be the best teacher, but savvy sales influencers are the next best thing!