The prospect list is the foundation of any sales plan. Prospecting is not only time-consuming — top sellers say they spend 6 hours a week on it; every salesperson on your team relies on it to work their way through the sales process.
If the people on that list don't have a genuine need for and interest in your product, it could be leading you to silently leak precious sales revenue.
8 tips for building an effective sales prospect list and boosting sales in 2023
Whether you've just started your own business or are on the edge of making it big (and have been stuck there for a while), these tips will help you nail down where you're going wrong and how to fix it.
Understand your offer
You can't sell unless you know what you're selling. Cursory knowledge of your offer isn't enough, you need to know your product like the back of your hand. If possible, try using the product yourself instead of relying on a brochure or manual to know its utility.
Ask yourself what problems it solves, which features customers are most impressed by, and which ones they often find lacking. Knowing the shortcomings in advance makes you better prepared to answer sticky questions.
Keep a list of specific statistics, success stories, and use cases handy to convince a lead of the value of your product. Your offer should allow prospects to envision how their business will improve if they use your product.
Understand your audience
Your product might have wider applicability, but an Ideal Customer Profile (ICP) tells you which set of leads have the right mix of both need and urgency for your product. You can then design your campaign, keeping these characteristics in mind. For example, are you catering to an SMB, mid-market, or enterprise? Your positioning and outreach strategies will change depending on the answer.
Along with an ICP, create a persona for the actual user of your product and the person that's going to sign the check. Don't rely just on theory. Update the ICP with your knowledge of your best customers.
An ICP should include the following:
Industry;

Revenue;

Company size;

Location;

Pain points.
The user and buyer personas include job title, professional background, day-to-day life, communication style, etc.
Use CRM data, website analytics, customer feedback, and online surveys to refine your target audience and truly understand them.
Build a list of potential prospects
Once you have the ICP and personas in place, there are several ways to build your prospect list.
Method 1: Existing data
An ICP will help you filter and prioritize leads based on their proximity to your requirements. Some CRMs allow you to assign scores based on different attributes.
Method 2: Social media channels
LinkedIn, Twitter, and Instagram search all have different criteria that you can use to find leads.
You can also run paid ads and collaborate with influencers to attract prospects that fit the ICP. For instance, Buzzsumo is an effective social media tool that can help you identify influencers and follow trends in your industry.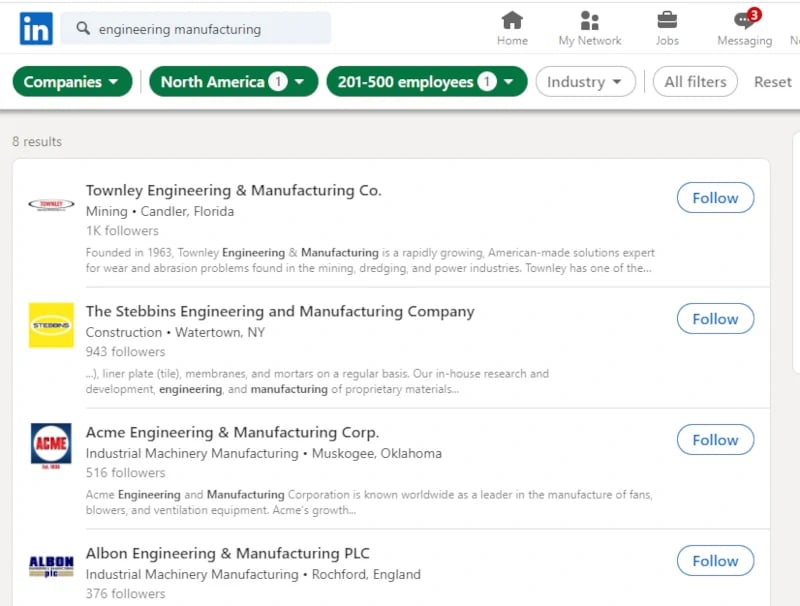 Method 3: Search engines
This method works best if your target audience is other businesses with online listings.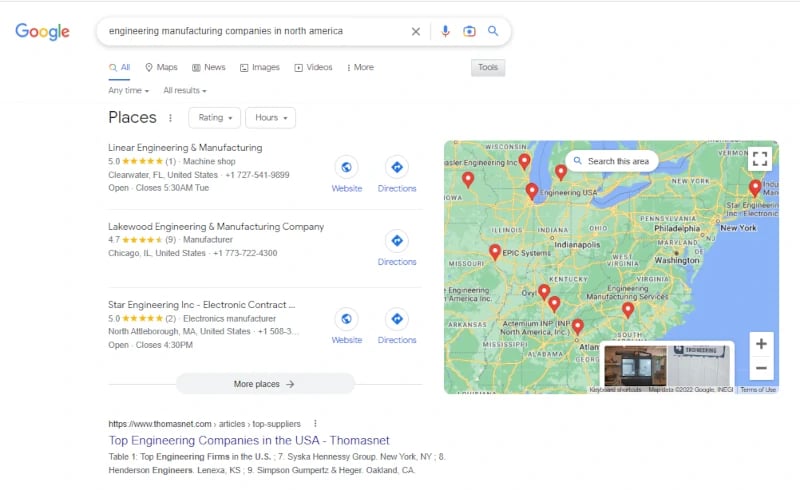 Google Alerts can also be set up to notify you of certain trigger events.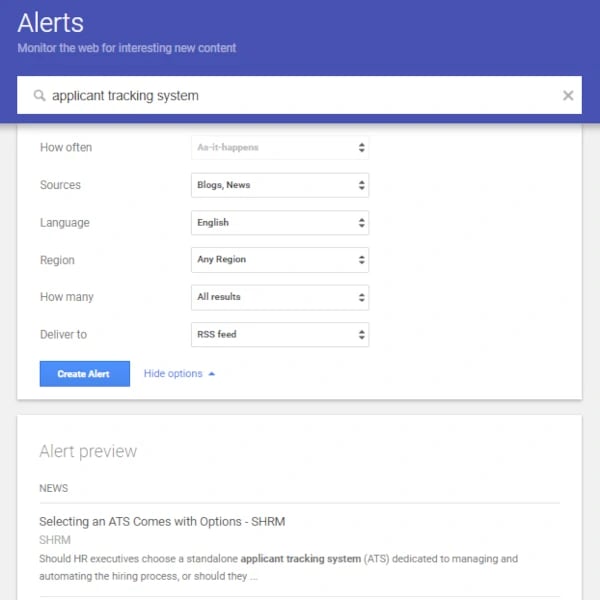 Additionally, lead generation tools; lead magnets (informative blogs, free ebooks, quizzes or tools); referral programs; business journals; trade magazines; and industry conferences can help you capitalize on unexplored opportunities.
Find decision-makers
If you aim to establish contact with a lead, you might be tempted to approach the first person from that organization you can get a hold of. But that's only going to lengthen the deal cycle.
Use your decision-maker persona to shortlist positions that fit the bill. So if you're selling an ATS aimed at mid-sized manufacturing companies, designations like Head of Human Resources or Hiring Manager are the people to speak to.
Since they might not always be accessible, also find the contact information for gatekeepers, like an assistant or junior level manager.
Hunter's email finder lets you find email addresses connected to a domain. Let's say you want to reach out to a Hiring Manager at Townley Engineering, one of the leads from your LinkedIn search. All you have to do is enter the domain name and let the Email Finder list all the possible email addresses you can contact.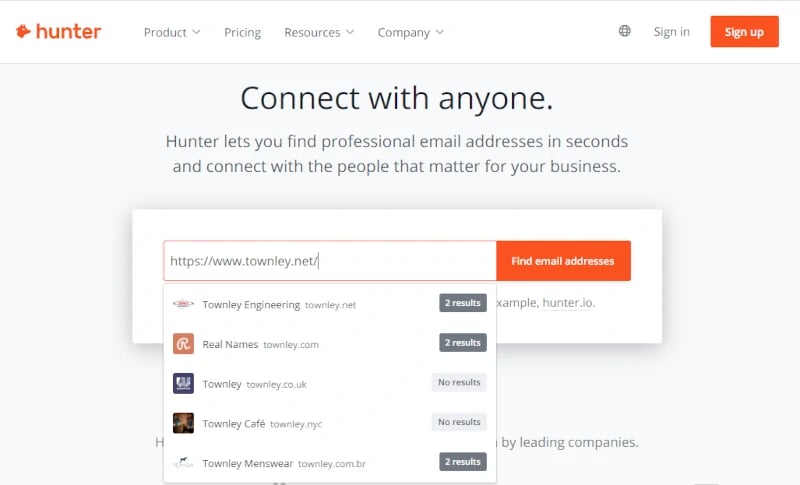 Organize your data
If you want to know the time and personnel you should be expending for a particular prospect, you will need to rank them in order of your preferred outcome, also known as lead scoring. Readiness to buy is the foremost criterion, as is a company's financial status.
But the ranking ultimately depends on your priorities – for e.g., bigger deals vs. faster deals. A larger organization with more purchasing power can generate more revenue, but a smaller organization that loves your product and brings in referrals has higher customer lifetime value.
CRM can measure a prospect's engagement level and tell you:
when and how many times your email was opened
who it has been shared with
whether or not the links in it were visited
if so, how many times and by whom
whether they've visited your website recently
what pages they've spent the most time on, etc.
This data allows you to make informed decisions about the scope, timing, and frequency of communication with prospects and increases your chances of bagging a contract.
Connect and engage with decision-makers
Even if you're selling a phenomenal product, your unopened cold email is no different from any of the dozen others that your leads get.
If you want to turn cold leads warm, engage with decision-makers before making your pitch. You can automate personalized messaging on LinkedIn with both browser and cloud-based tools. But LinkedIn flags accounts they suspect of using automation, so it's best to limit the use of these tools.
Depending on the tool you're using, you can:
Shortlist profiles fulfilling your criteria
Create messaging sequences
Personalize messages to include merge tags, images, and videos
Automate sending
Create separate workflows based on whether you've received a response or not
Expandi and Dux-Soup are two of several options that you can try.
These tools have a steep learning curve, so experimentation and patience are important here. You can also occasionally (manually) comment on their posts to retain a personal touch.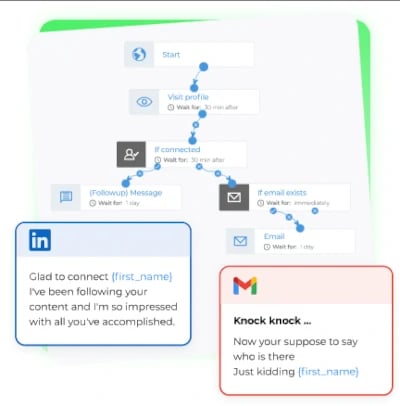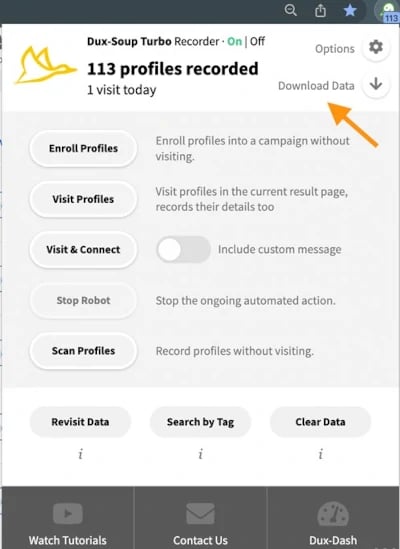 (Image source: Expandi and Dux-Soup)
Create personalized outreach sequences
Finding the balance between scale and personalization can be tricky, but the efforts you put into creating sales outreach sequences will pay off exponentially in the long run.
The first step is to create segments in your prospect list. Sort high-priority and low-priority prospects to create custom baseline sequences. You can further personalize these based on
who you're talking to,

what matters most to them, and

their authority in the organization vis-à-vis the deal.
To ensure your sequences are better received:
Verify emails on your prospect list before emailing them.
Personalize subject lines and keep them short.
Monitor their company and individual social media feed to hyper-personalize openers.
Focus less on yourself and more on their pain points.
Add value with each email you send through links to webinars, podcasts, free quizzes, or cheat sheets.
Centre your emails around a single CTA. Cluttered messaging confuses leads and delays action.

Sign off with a professional signature or a

virtual business card

containing

links to social media channels.
A/B test emails to constantly improve open, response, and conversion rates.
Automate follow-ups and notifications
Cold leads, or even semi-warm ones, won't just jump up and say yes to your offer right away. Customer reviews, case studies, personalized videos — you'll have to throw everything at them before they consider signing on the dotted line.
An automated follow-up sequence can simultaneously pique your prospects' curiosity and ingrain your product's value in them. It can be sent at a time of your choosing based on specific behavioral triggers.
For example, two days after an email containing a product introduction video, send across a case study of how your product benefitted a similar client. Follow that up three days later with an email containing client testimonials.
When they express an interest, and you send them the offer document, you can create different follow-up sequences that are triggered if they don't open it or if they don't respond after doing so. GetAccept also has a nifty live chat feature that shows up when they're viewing the document.

Sales trends to follow in 2023
#1: Focus on solving the prospect's pain points
The customer, as always, retains the spotlight, and all communication will have to revolve around solving their pain points in order to be effective.
#2: More touchpoints and an omnichannel approach
The future of sales is omnichannel. Emails, calls, social media, live chats, and in-person meetings will all feature extensively in new-age sales pipelines. This approach will benefit from a unified communication service such as the solution provided by enterprise communications.
#3: Offer a freemium model
Find ways to make at least a portion of your offer scalable. A free tool or basic version of your product is the ultimate way to generate new leads.
#4: Prioritize retaining existing customers over acquiring new customers
Current customers are 14x more likely to buy from you than new ones, so conceptualize up-selling and cross-selling opportunities. If your existing customers aren't happy, new customers won't stick around for long, either.
#5 Personalization through all channels
Customers want to be treated like people, not anonymous cash cows. And when 71% of them ask for it, personalized customer experiences aren't optional anymore.
#6: Automation and CRM usage
Creating a seamless, personalized experience across multiple touchpoints is challenging. Delegate to intuitive CRMs and automate tasks wherever possible so that you can do what you're actually meant to.
Final words
Applying these prospecting and sales techniques will drastically improve your prospecting process and conversion stats. Of course, you can implement them selectively based on what works best for your business and target audience.
That said, keeping your leads moving from the top of the funnel to the bottom is a demanding task, and a little help (or a lot) isn't something you should turn your back on. A sales enablement tool like GetAccept can give you a leg up as you scale new heights and crush your sales this year.