Sales representatives are busy people. They have to do a hundred things daily, including team management, preparing custom sales pitches, and much more.
As a result, they only get to spend less than 36 hours a week on selling, which is their primary job.
It reflects on SDRs' performance, sales engagement, and career growth. But, unfortunately, that leads to 79% of qualified salespeople quitting their job.
Since your SDR is responsible for lead generation and conversion, it is unaffordable to lose your talented sales staff for your organization.
But, there is a solution—a sales playbook.
A well-compiled sales playbook can guide your sales team to do their job better and faster.
So, let's see what a sales playbook is and how you can build one to streamline your sales process in 2023.
What is a sales playbook?
A sales playbook is a compilation of methods and tactics defining the best sales practices for each team member.
It also includes methodologies, software tutorials, information, brand design, buyer personas, and sales strategies, among other things. Furthermore, it assists you in defining your objectives, categorizing measuring metrics, and developing an effective sales closing strategy.
The playbook contains the tactics and processes to guide salespeople. It can assist marketing and sales teams in systematically analyzing assumptions and extracting best practices. Furthermore, with a sales playbook, your team can gain knowledge on qualifying sales.
Why do you need a sales playbook?
Sales playbooks are holy books for the modern sales team. They can guide your in-house, field, and remote salespeople to streamline their operations and stay on the same page.
Apart from that, sales documentation can support businesses in several ways, such as:
Smooth onboarding process
Implementing a sales playbook provides new hires with a step-by-step onboarding guide. It helps them learn about ideal customers' profiles and companies' clear expectations from the sales team.
Furthermore, new sales managers can review sales playbooks in advance. It can provide consistent training and techniques in a single resource, eliminating the possibility of misinformation.
Personalized sales proposals
Selling is a lot harder today, especially B2B selling. According to Gartner, six to 10 decision-makers are involved in a B2B purchase, with every person having a different information set.
As a result, salespeople must create a personalized sales proposal, which they can also improvise on the spot.
The sales playbook helps salespeople create tailored sales calls, providing a consistent platform for them to access specific sales scenarios quickly. For example, they can create a sales proposal without spending hours searching for relevant pricing sheets and content materials.
Ease to experiment with new sales tactics
A sales playbook can help sales managers and reps to become familiar with key features. For example, audience personas and available resources to create content marketing plans to launch a new product or service.
Sales teams can use new tactics, tools, and techniques to boost their lead generation rate.
Reduce sales cycle
The B2B sales cycle can average from one to 12 months. Therefore, it takes at least 4-6 months to acquire a new customer in the B2B industry.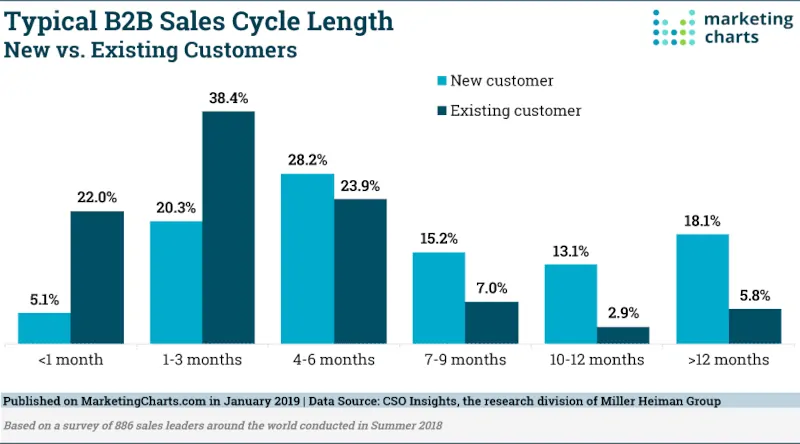 It is sufficient time for a lead to leak from your pipeline and land in your competitor's sales funnel. A sales playbook can ensure your sales process gets simpler so sales reps can closely follow each lead and prevent leakage in your funnel.
What to include in your sales playbook?
Are you ready to create your sales playbook? Then, make sure to include the following elements in your playbook to make it effective and helpful for your sales representatives:
Company information
If you sell multiple products using distinctive sales processes, including your company information in the sales playbook is critical. It must define the following company details:
Explain your company's sales strategy.
Define your organization chart, so sales reps know whom and when to report.
Complete outlook of individual salesperson responsibility and expectations.
Training modules to help new salespeople adapt your company sales policy.
Explain your products and pricing structure
The next section must cover everything your team needs to know about your products and services. Ensure you answer the following questions in your playbook:
What kinds of things do you sell?
How do they function?
What exactly do they do?
Why should buyers be concerned?
Furthermore, if your company has an extensive catalog of solutions, you can create a separate playbook that explains various buying processes, personas, and product offerings.
Define your sales and other business tools
Another important point your sales playbook must contain is the software and tools you use to sell your services. Sales automation is a big part of most business organizations today.
So, it is crucial to define which software you use to collect, nurture and manage your leads. Usually, companies use sales CRM tools to automate sales operations.
But, companies use several other software to automate their business operations. For example, companies use accounting software to manage their payroll and balance sheets and record employees, and AI-based tools help them to write common content like financial aid appeal letters, termination, and onboarding letters.
So, you must explain and show how to work with essential automation for businesses like email automation and social media automation solutions to align your sales process.
Explain your sales methodology
Your sales methodology informs the principles and practices guiding salespeople through each sales process step.
This section must explain why and how the sales process works. It also serves as a roadmap for navigating each stage of the buying process based on your customer's needs.
Do you employ SPIN, Cold Calling, Consultative Selling, The Challenger Sales Model, Solution Selling, something else, or a combination of all the above?
Explain why you chose this methodology for your team and how it fits your overall goals.
Talk about your buyer persona
Define your ideal prospects, aka 'buyer personas,' in the playbook for new team members unfamiliar with your target market to help them direct their pitch to the ideal prospects.
These guidelines can also assist your sales representatives in determining when a prospect doesn't fit these personas or are a good fit for your product.
A basic summary of the buyer persona is as follows:
Roles
Seniority
Company size and type
Internal difficulties
Personal chauffeurs
Leverage user cases
You can share real user cases in your sales playbook to demonstrate the tangible impact of your product for customers. These provide real-world examples of how the product can be used to solve specific problems. Reps can help prospects see the value of their specific business by referring to these use cases in their conversations.
Make a list of the most common ways customers use the product to solve a problem or challenge. Include real customer examples that your reps can use to demonstrate the benefits to sales reps.
You can also publish customer case studies on your website so your sales team can easily access them.
For example, we publish Use Cases on GetAccept to inform our sales agents and customers about our latest product trends and how to use them.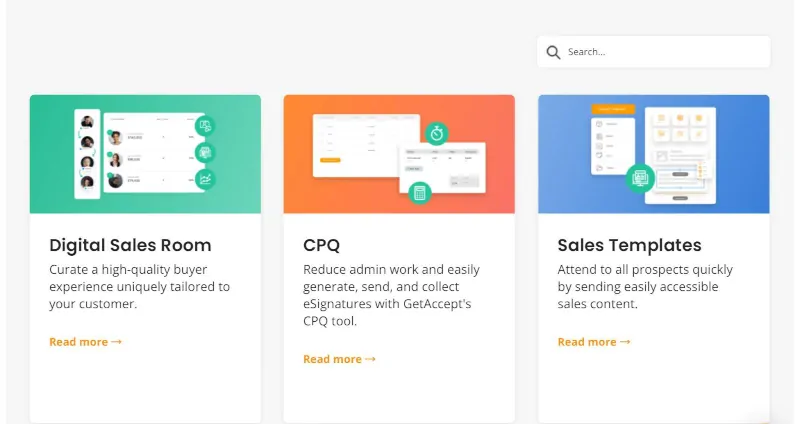 How to create a progressive sales playbook?
Now that you know what to put in your sales playbook, let's see how to compile one to empower your sales staff:
Step 1. Define your company's mission and vision
A sales playbook is only possible once you understand your company's vision and mission. Be honest and transparent in your approach, don't bluff anything.
Tap the CEO's cabin and figure out your company's goal, core values, and mission. Then, learn about the plans that your company hopes to achieve in the coming years.
Incorporate these mission, vision, and core values into your sales playbook so that your sales reps understand your company's goal and work tirelessly to achieve it.
While communicating with clients, your sales representatives should be able to convey your core values. In addition, it can aid in the creation of a positive image for your company.
Step 2. Set best sales practices based on your top sales reps
As a thought leader, you must be aware of your sales team's capabilities; this allows you to highlight the positives while mitigating the weaknesses.
So, first, locate the best performers and examine their practices. Then, understand what they are attempting to do to succeed.
Examine the purchasing process to determine the success factors of your top performers. Next, track their outbound activities—a sales CRM can assist you here.
You can even get insightful sales reports based on previous sales data with a CRM. It can assist you in determining the most effective steps taken by the top-performing sales representatives.
Step 3. Assess your existing sales process
Start assessing your current sales situation and identifying gaps in your sales materials, tools, and customer research. Next, examine the current state of your profitability.
However, remember that you must consider not only the best sales practices but also the customer purchasing model.
Focus on the following things:
How do customers like to shop?
On what do they rely on information?
How long does it take them to make a purchase decision?
What factors influence a purchase decision?
Are customers pleased with the product?
Involving customers in your research is the best way to learn what they expect and what you need to do to meet their expectations because it is all about your 'customers' in the end.
Step 4. Define your sales objectives
It is the primary focus area where most businesses fail. As a result, you must consult with your team to learn about their challenges. First, list the most common ones and devise a solution to deal with them. Then, examine how your best players handle these objections.
Conduct a mock calling session with your talented sales reps and videotape it for the rest of your team. Once your sales team understands the strategies, they can handle the objections of hesitant clients.
Step 5. Look for an improvement room
Evaluate your sales process and map out the key steps of the sales process. Outline the entire decision path and identify the areas for improvement.
Instead of just simplifying your current process, try developing a different and more effective one. Then, describe it clearly through a flowchart so your sales team can easily understand and adapt it to achieve positive sales results.
Quick tips for creating your sales playbook
Here are some quick tips for creating your sales playbook:
Upload your sales playbook on your business website so all sales employees can access it.
Use security tools to secure your digital playbook from unauthorized access.
Define the closing and follow-up play with clarity so your sales team can retain every lead in the funnel.
Constantly upgrade and update your sales playbook to keep your reps on top.
Easy to download sales playbook templates
For your ease, we have found easy sales playbook templates you can download and streamline your sales process:
HubSpot's Sales Playbook Template
It is a simple sales playbook template you can use when creating a playbook for the first time.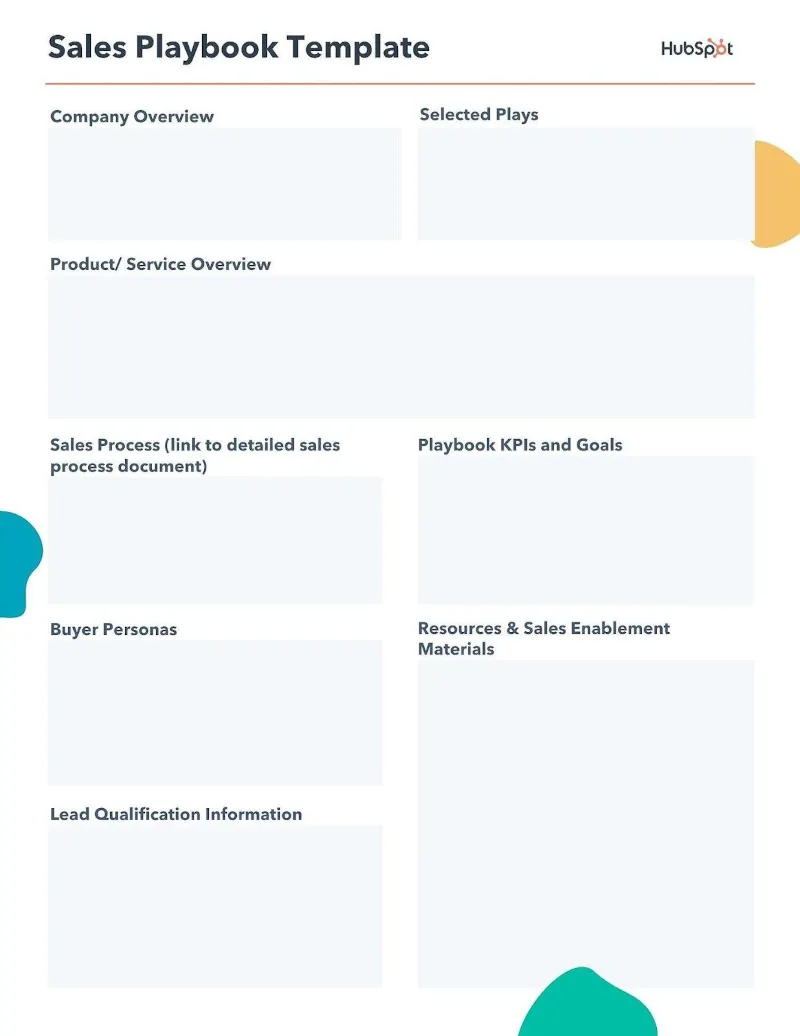 G2's Sales Playbook Template
It is a great template to present your brand story and introduce your sales team members to new hires.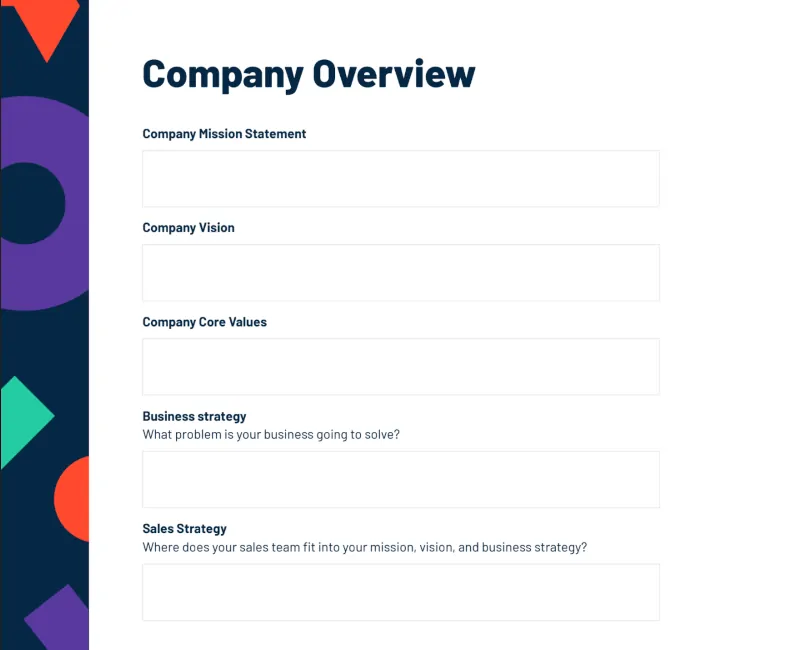 PPT Sales Playbook Template
Do you want to create a sales playbook in PowerPoint format? Then this is the best template design with clear font, color tone, and presentation.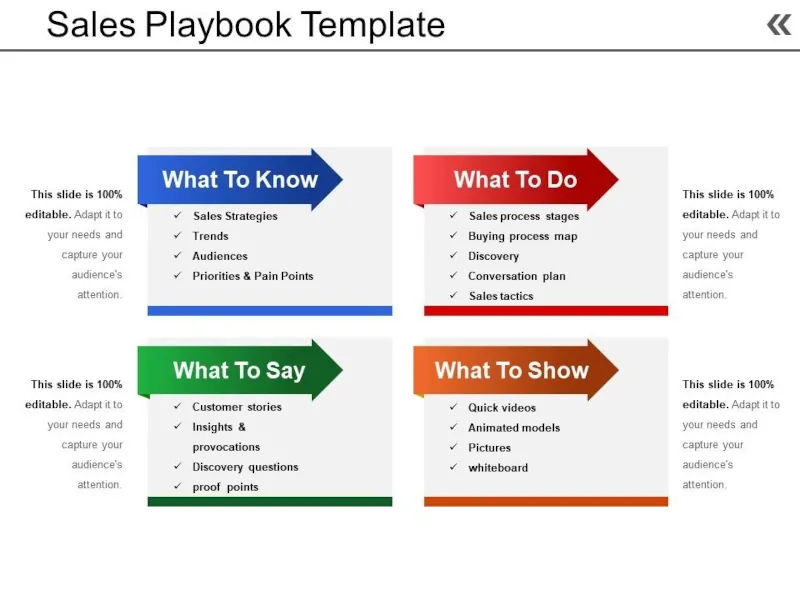 Let's create your sales playbook now!
There you have it, people! You are now ready to create a sales playbook to keep your sales team on the same page.
The sales playbook drafting can make or break your sales process. If you miss to clarify a point or forget to update sales statistics, it can derail your whole sales department.
Thus, be precise and collect all the information before writing a guidebook for your sales team members.
Most points to create a sales policy are already defined above. So, read the post carefully and start creating your sales playbook now!