42% of sales reps find prospecting to be the most challenging part of the sales process, according to HubSpot.
And that's too bad since prospecting happens to be one of the key stages of the sales process.
But it's hard to argue with this finding. Booking meetings is hard.
And with the whole world moving online and sales processes increasingly taking place on various digital platforms, prospecting is not getting any easier.
In the digital jungle, there are a lot of advantages but also a lot of distractions. While reaching out might be easier than ever, standing out is a problem many salespeople struggle with.
How should you structure your emails?
What platforms should you be using?
How long should your videos be?
In The Sales Ladder podcast, we had a chat with SalesLoft SDR and no-nonsense sales queen Charlotte Johnson, who shares her best tips for grabbing your prospects' attention.
In this blog post, you will find the five most essential prospecting techniques she thinks every salesperson should adopt.
So if you've got ninety-nine problems and standing out from the crowd is one of them, keep reading.
1. Be everywhere and be loud!
Just because your prospects aren't replying via email or LinkedIn doesn't mean they have not seen your messages. They might have been busy and didn't get the chance to get back to you. But they know exactly who you are.
According to a study by Brevet, 80% of sales require five follow-up calls after the meeting. 44% of sales reps give up after one follow-up. 94% of sales reps give up after four follow-ups. What you want to do is make sure you are in the 6% who never gives up.
Prospecting is a lot like marketing. You want to gauge attention by surrounding your prospects with different platforms.
Share LinkedIn posts, organize webinars, record podcasts, send personal video recordings and gifts. The sky is the limit!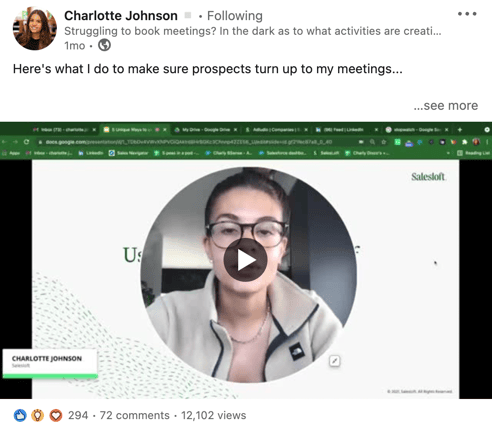 You can also just reach out and interview them on topics they care about. You might not book them immediately, but you will be on top of mind when the timing is right.
What is the most successful channel when prospecting?
2. Put yourself in the buyers' inbox
Take a step back and imagine you're on the receiving end of a prospecting email.
Your prospects and their inboxes are drowning in emails and sales messages on every possible channel. And these channels are getting busier and busier.
Try to think about that inbox nightmare and figure out what subject line would stand out to you. How could you structure your message in a straightforward way?
Easier said than done, but be yourself and let your personality shine through. Being human instead of a sales robot and genuinely having a good time while you're talking to someone will make a lasting impression. And it's less likely that you're going to waste anyone's time.
It's pretty simple: don't send stuff just for the sake of sending stuff. Make sure you do everything from your buyers' perspective. If you don't think something you're sending is engaging, don't send it. If you don't think you would reply to your own email, don't send it.
How to sneak in the human factor?
3. Personalize and research like Sherlock
You MUST take your research to the next level.
The way we're going to prospect in the future is going to be completely different. Cold outreach will be a thing of the past, and taking a nurturing approach will be vital.
As times are changing, you can't stick to the same old strategy either.
Before reaching out, don't just read the first two sentences from their LinkedIn bio. Everyone else is going to do the same, and you need to stand out from the crowd. Try to understand their business and how they go to market. What are they selling? Who are they targeting?
Make sure your subject line is personal.
Ditch jargony terms like "We're going to 10x your ROI". No one cares. Do a little research and find something personal to them. Maybe your prospect loves hotdogs, or they are a big fan of baseball. You should find out!
A quick Google of their name goes a long way. But don't waste your time!
Research can take ages, but over time you'll become efficient. Spend more time on the higher tiers, but don't spend ages researching if you can't find something personal.
You should focus on personalizing the priority accounts, especially at the beginning of the cadence. Maybe you're running a workshop on how you booked meetings on LinkedIn. Send them a link to the sign-up page so they can share it with their team.
There's also the question of quality and quantity. You don't want to neglect quantity. Get out to more prospects, and don't be too targeted. Only reaching out to a few people and not getting the responses you want could work against you.
Quality vs. quantity
4. Go crazy with video
Sometimes it can be quicker to record a video than write an email.
Vidyard is a great tool to use throughout the whole remote sales process. Video can help you stand out from the crowd, and your prospects will remember you for being creative.
Here are some of the best tips for video prospecting:
Share your screen to make it more engaging. Whatever you're talking about, share the process and show the prospect what you've been looking at.
Don't talk about your company, and don't say anything about yourself. Make it about your prospect and their company.
Keep the video as short and to the point as possible, under a minute but ideally around 45 seconds.
Have a simple structure, don't ramble on, and don't be pushy.
Keep testing and iterating.
Just do it and have fun. It doesn't need to be perfect!
How to structure a prospecting video?


5. Be persistent
"A little more persistence, a little more effort, and what seemed hopeless failure may turn to glorious success," said Elbert Hubbard, an American artist and philosopher. He had early success as a traveling salesman for the Larkin Soap Company in the 1870s.
When it comes to being persistent in sales, not much has changed in 150 years.
Just because your buyer doesn't reply after your twelfth email, it doesn't mean that you should stop reaching out.
You just need to stop trying to sell and start trying to help. Focus on providing the prospect with useful information. Set up a nurture cadence so they can keep receiving useful insights outside of your own company. Don't talk about yourself, just make sure you're top of mind until the timing is right.
If they start engaging with your content, you're back in the game!
Long story short, customer experience is key to prospecting. Build a solid presence on various platforms and make sure you do thorough research about your prospects before reaching out.
It takes an average of eight cold call attempts to reach a prospect, so don't give up! Be persistent and make technology your best friend. Record short and sweet videos to make an impression.
And don't forget about personalization, the scatter-shot approach belongs to the past.
What was THE craziest thing Charlotte has done in sales?
Meet one of the most innovative SDRs and learn some more practical tips and tricks in the podcast. Listen to the full episode below:
Want to hear more?
In The Sales Ladder podcast, you can listen to inspiring sales leaders sharing their tips, tricks, and experience to not only survive but thrive in the jungle of sales.