Recently, more and more salespeople started to leverage video throughout their inbound sales process to increase engagement, promote personalization, and meet the needs of their prospects. For example, our own study shows that GetAccept customers have seen a 30.4% increase on engagement with proposals that has a personalized video introduction.
GetAccept's sales enablement platform will help you to personalize your B2B sales process. Our platform will provide you with data-driven analytics, sales automation, and personalized engagement features like real-time chat, video and SMS functions. Its time to engage with your customers like never before. So, let's start with the benefit of using personalized video with your proposals.
Shorten the sales cycle
Most busy professionals don't take time to read a lengthy sales proposal, but they will take a few minutes out of their day to watch a quick video walk-through that summarizes the highlights of your proposal. They can quickly forward it to other decision makers, and after just a few minutes, everyone is on the same page.
Build trust & enhance the relationship
Today, as salespeople, we mostly use emails, phone calls or screen sharing, rather than meeting our customers in person. Personalized video helps you build an instant connection and trust with your customer from the get-go.
Cut through the noise
During one day we can receive more than 100 emails, and a similar amount of social media messages every day. Especially as an introduction message, video can put you in front of the competition.
Have better response rate
Your potential customers will be positively surprised and instantly appreciate the extra time & effort you have put into preparing the video. And this will significantly improve your response rate.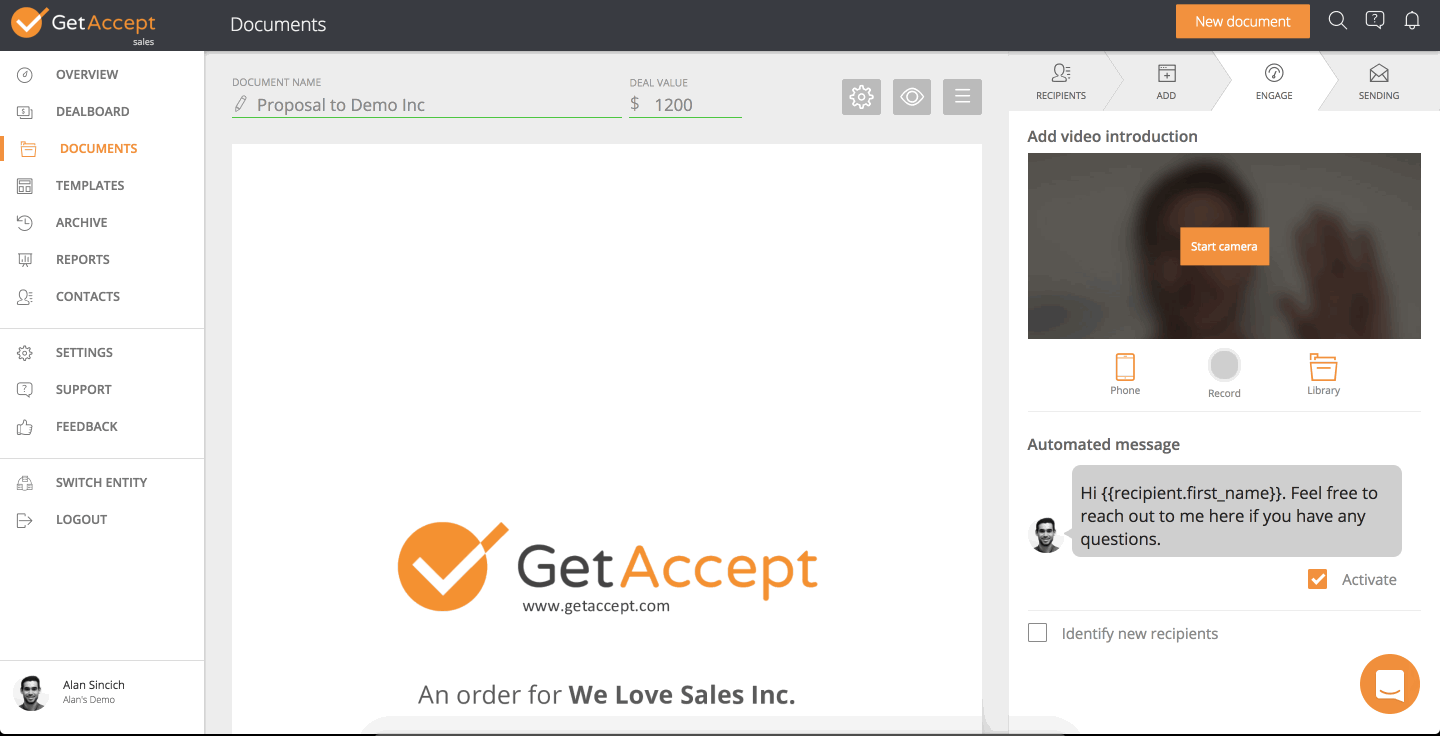 Chatbots! Interact and get more personal with a real-time chat
Chatbots have much higher open rates than emails which increases the chances of a user making a purchase. Several years ago, this type of interaction simply wasn't possible. The technology, particularly in the field of artificial intelligence, wasn't as advanced or widespread.
With GetAccepts real-time chat you will be able to receive live support right inside the document. As a recipient, you are able to chat, ask questions, and mark certain areas on the document that come to your attention. The sender will then be notified in real-time and can answer you much faster than if you sent them an email. Simply type your comment, drag the pin if you want to make your comment on a specific area of the document, and click post.


Get access to everything GetAccept has to offer! (free) Try out GetAccept today.