The marketing team at GetAccept is situated at 5 different locations, which means we are quite used to meeting virtually and using different tools to stay connected and keeping a personal dialogue between team members. Nevertheless, at times like these, when we all actually work remotely, i.e. from home (and not in our respective local offices) we have to be inventive in terms of coming up with ideas to keep the team spirit high, energized and creative.
Here are my best tips on how to keep a marketing team delivering on top, creating magic and having fun while doing so!
Make sure you e-see and interact with each other during the day
Even though we don't get the chance to see each other face to face for some time now, it's important to create the same feeling of interaction and affinity in the team. Therefore, every morning we have a stand-up meeting via Zoom to say good morning, start the day, go through what to focus on during the day, what help might be needed and what's to be accomplished during the day. During the afternoon we have 3 o'clock virtual "fika" (coffee and something to snack on is mandatory!) just to check in on how everyone's doing and chat about something other than work. We have also put together a bingo for the team to keep the mood up. Nice prices are granted once all challenges in a row, either vertically, horizontal or diagonal are completed.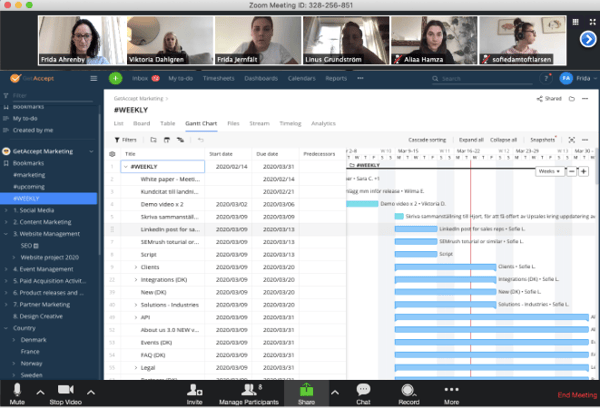 Setting clear expectations and be more task oriented
Having clear expectations on each team member connected to the overall business goals and each person's individual area of responsibility becomes even more important now. I'm not a believer in micromanagement, but for everyone's sake and to keep motivation up, now is the time to be more task oriented in order to keep focus and have that satisfying feeling that you have completed your assignments when the day ends. We keep track of all the marketing related projects and tasks in the project management tool Wrike or Teamly.

Keep on being target oriented
Marketing targets, just like any targets, might experience a dip, but that's not a reason to give up on them. Acknowledge the fact that there might be a decrease in demand and interest to purchase right now. But also remember that it will change eventually and as long as you stay on top of your numbers, you will know which strings to pull, once the wind changes and the time is right. Keep on hustling...
Rework your focus and agenda
This is the time to take the opportunity and put extra effort into building stronger product recognition and awareness for our brand and the values our company stands for. We try to focus on creating inspiring, engaging, educating, and boosting content, with a tight connection to our business and the questions people are looking to find answers to these days. If we can simplify processes and help companies become more digitalized (and successful) by sharing our knowledge and insights, we hope that will add to good business karma and build strong brand relationships for the future.
Take a break
Even more important now, when sitting at home! Take a walk, get some fresh air, do yoga in the living room, put some music on and do 20 squats. Anything to get some more energy into your system. We have a "get moving schedule" in our team looking like this.