As you could read in a previous post, To build for the future - Speed up instead of slowing down, I have been thinking a lot about how our situation would be if we were in another industry, maybe something more exposed than the one we are actually in. I have been talking with many of our customers, partners, and other people I have in my network to get to understand their situation, and down below are my thoughts about how I would have acted as a business leader if I worked in an industry that got more affected than others.
Hotels, events, and conferences
This is one of the industries that might get more seriously affected these days. Conferences get delayed and events get cancelled. All this makes it harder to fill venues and hotels. Several large players in the industry have announced a profit warning and have let go of up to 50% of their workforce which is really sad and devastating.
How I would prepare for a future upturn

Go from order handlers to Sales Representatives. Many that I have talked to, say that they are used to having a lot of inbound requests, and that they aren't used to do outbound sales. Now is the time to change. A

ctivate your sales department, call your main returning customers and present solutions for the autumn season that will allow you to book the autumn's conferences already now - by offering a unique package. If you want to have someone to start off with, call me!
Consider how you could keep the same level of efficiency with a smaller staff when the surge finally comes. At GetAccept, we have had the opportunity to train a lot of our customers in the hospitality business on how to become more efficient when demand is high, and thereby stand out as a supplier. They do this by being able to quickly respond to customer inquiries, have a better overview of what requests are relevant, as well as managing communications on video or direct customer chat. This way you can create a presence, and you will be available if the customer wants to buy.
Salesman on the field
After talking to one of our customers who sell solar panels, I was able to understand that this industry was very affected since they are out on the field and doing business the "old fashioned" way. That is, agreeing and shaking hands on it. Also, it is an industry that is very dependent on seasons, since they can increase their sales only during a limited time each year.
How I would have prepared for a future surge
In this industry they are used to outbound call new customers. But I would be transparent about the current situation and make it clear that it is possible to do something about it by being even more active in the sales work. I would have made it clear that we need to Contact more potential customers and work a little harder.



Change the sales process and make sure the customer feels secure about the decision. Have them help you to collect information and then even if you can not get out to measure dimensions and sign a contract on the spot, make sure to create a personal relationship through digital interaction, for example by working with great presentations, video meetings to show who you are and also present the product before requesting a digital closing.
Car dealers
Buying a car is much about test-driving, as well as meeting and shaking hands with the seller. Often the decision to buy a car is emotional. However, there is another way of creating that feeling:
Sell by using a video, to create a sense of the car's condition and appearance without being there. Then you can make sure that agreements are shared digitally with the buyer, and the seller can get the personal touch with an introduction video. A great example is shown below.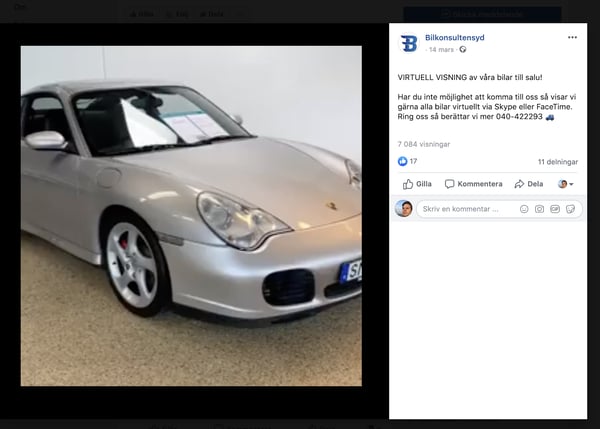 My purpose with this post was to inspire, to view the current situation positively and by preparing you for future opportunities, whether you're an entrepreneur, founder, or employee. Thank you for reading all the way!
Also read: Build for the future - Speed up instead of slowing down
Also watch: Webinar: Power up your Pipeline, together with Vainu and Hubspot
__
GetAccept change and simplifies a seller's processes and allows the digital signing of the agreement to take place on the customer's terms with the seller's control. Read more about our product and how you can streamline your sales processes with sales enablement!