As Lime CRM keeps improving its products to create an easier workday, we've released several new features to take the GetAccept Integration for the Lime Web Client to the next level.

Let's dig into it!
Avoid manual data entry using merge tags
It can take ages to prepare a sendout when you have to fill in all recipient information manually (and imagine all the errors that might occur).

By using merge tags, you can automatically pull recipient data into related fields in a template. It's simple, efficient, and error-free.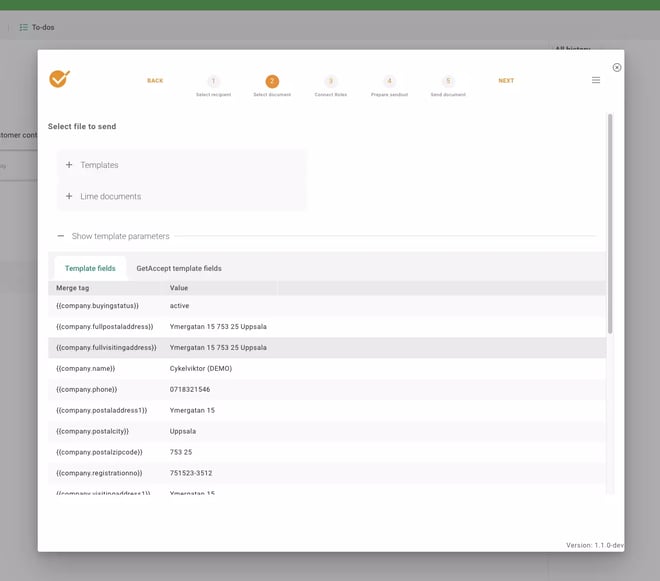 You can double-check which fields are included in a template and related auto-filled data by clicking "Show template parameters" under"Select document" within your Lime CRM.
Maintain a unified approval flow with Template Roles
For some types of documents, you may want them approved internally before sharing them with your prospects. But the problem is, not everyone remembers to do that.

Worry no more! Now you can add certain roles and specify the sign/approval order when building templates. After it's done, your sales reps must add recipients to fit the required template roles before sending it out via Lime CRM.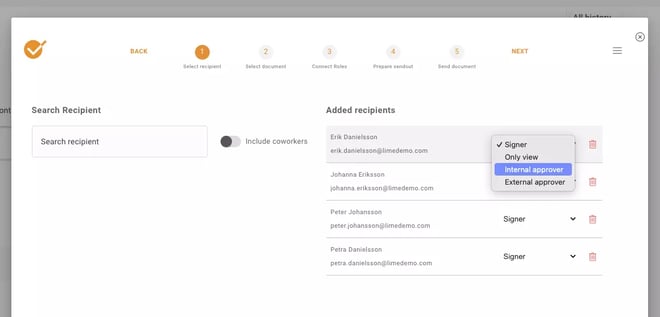 Here are the current template roles we support and their detailed functions:
Signer: Signers can view the document, chat with senders, and sign the document at the required fields.
Only view: Viewers can only check the document without making any comments or changes.
Internal approver:
An internal approver is someone within your organization. They are not visible to anyone but the sender, their actions will not be noted in the certificate audit log, and they can not interact with other recipients or the sender in the chat.

With this update, internal approvers will be a role solely used to approve the document before you take the next steps.


External approver:




An external approver is outside your team or organization, usually one of your prospects or customers. An External Approver is visible on the signing page and in the recipient list, can be interacted with in the chat, and all actions are noted in the certificate audit log.

You, as the sender, can track how an external approval interacts with your documents to stay on top of an ongoing deal.
Check out this help center article to learn more about Template Roles.
Wanna get started?
Besides the new features mentioned in this blog, we also improved several existing features of the GetAccept integration for Lime CRM. Install the latest version of your Lime Web Client to enjoy its full potential.