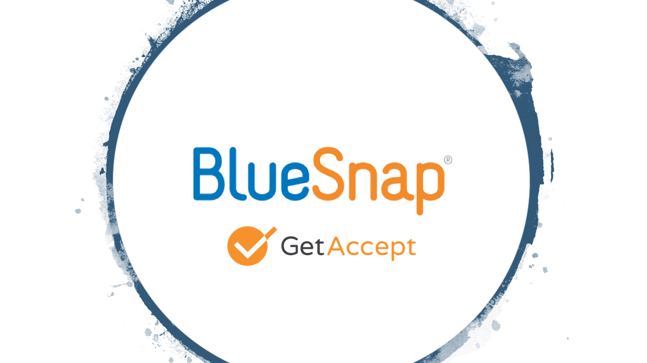 GetAccept and BlueSnap partner to offer an all-in-one software solution for sales documents and communication, quoting, electronic signature and payments
GetAccept is pleased to announce a strategic partnership with BlueSnap, a leading global payments company with the joint goal of delivering superior contracting process and efficiency to thousands of customers around the world.
Many other payment providers are limited in their provision of a flat-rate offering, with no support and only basic support for international and recurring payments. BlueSnap has proven, award-winning global and recurring payments capabilities, tier 1 support, amazing rates and some of the highest payment conversion success percentages in the industry.
GetAccept and BlueSnap clients will now be able to seamlessly "Sell, Sign and Pay."
1. Organizations will be able to orchestrate deals by exchanging trackable sales collateral and communicating with clients in real time via chat and video.
2. Quotes and proposals can be configured and negotiated with real time editing
3. Final contracts can be electronically signed; with BlueSnap facilitating payment and automated recurring billing along the contract life cycle
4. Stalling agreements can be nurtured and closed via GetAccept reminder workflows
5. Renewal paperwork and billing can be managed for seamless client retention and account management
"We look forward to bringing the power of both platforms in a united offering to the market. In talking with many of our customers, several have expressed a desire to take payment or authorization for payment at point of contract...so this partnership facilitates a critical evolution in the GetAccept offering," said Dailius Wilson, VP Sales and Growth at GetAccept.
For any questions regarding the offering please get in touch with us in the comments below