This is the launch of the GetAccept Blog. We will provide you with good inspiration within sales and marketing and of course talk a lot about how to work successful with sales docuements. Below you can read the introduction about us and take a sneak peak in to our new office Silicon Valley Office.
Looking forward to get a lot of comments from you out there.
GetAccept in one minute - Close more deals
Did you know that more than half of all sent quotations never end up in a won deal, neither for you or a competitor. The lack of control on your sent quotations has never been seen as a problem although it is your really biggest competitor.
In this blog we will discuss the different factors of success in sales and try to learn from those who are most successful. We will immerse ourselves in all the above challenges with concrete action plans with checklists and templates. Please contact us with interesting topics you want to discuss. We want to change and simplify the way how B2B vendors doing business today.
GetAccept is here to help sales people close more deals by gaining control of their sales documents. In GetAccept you design track and market your sales documents to get them e-signed in a fast and secure way. Watch our movie above to understand how we can help you leverage your sales from the first sent presentation.
GetAccept moving into the SF Bay Area
The team behind GetAccept has previously built successful companies in Northern Europe, Scandinavia, within lead generation, sales automation and CRM.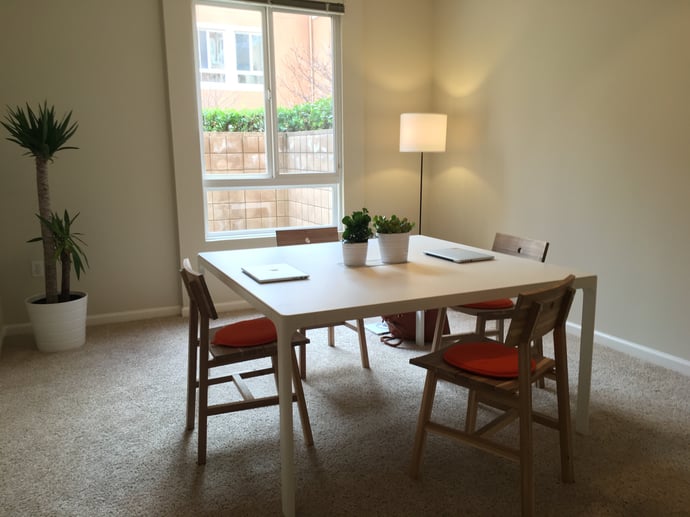 One of the rooms in our new Scandinavian styled office in Silicon Valley - Sunnyvale
Our new office, located in the heart of Silicon Valley - Sunnyvale, has been set up in a Scandinavian style. If you are in the area please drop by and have a chat, and we will serve you some nice Swedish coffee. Welcome!