Document templates, automated chat messages, connected calls and a facelift are shipped

We are now delivering some amazing features. Try using the automated comments and auto connected calls to engage your recipients and push your deals forward. Continue reading to get insights on how you can increase your closing rate by more than 20%!
Start using templates in GetAccept
Many of our customers have been asking for a simple template manager. Now, you can upload frequently used templates right when you need them with one click. Add fillable fields to the template, making it possible for the sender or recipient to add information before signing.
Check out the video below.
Engage your recipient to talk with you
What if you could always be there for your prospect when they needed you. Now, you can! Generate an automated comment to be added to the live-chat when your prospect is reading your sales document. Pop-up and ask a question about the content to initiate further conversation about the deal. You can be assured that you will get an answer back.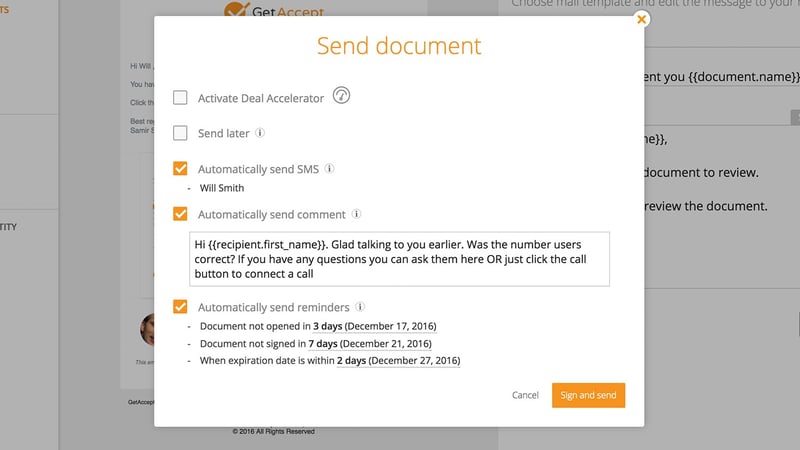 Add in an automated comment just before clicking 'Sign and Send' in the Send Document dialogue.
Customers using this have higher engagement with their recipients and a 23% increased closing rate. Try it today by simply adding the comment before sending out your document. Don't forget to download the GetAccept mobile app to always be available to answer the chat.
Make yourself available with a click
All sales reps know how important it is to talk to the prospect through the end of the sales process. Have you ever called a decision maker just to get the answer "I am in a meeting" or "I am really busy right now"? Getting hold of a decision maker with perfect timing can be a struggle.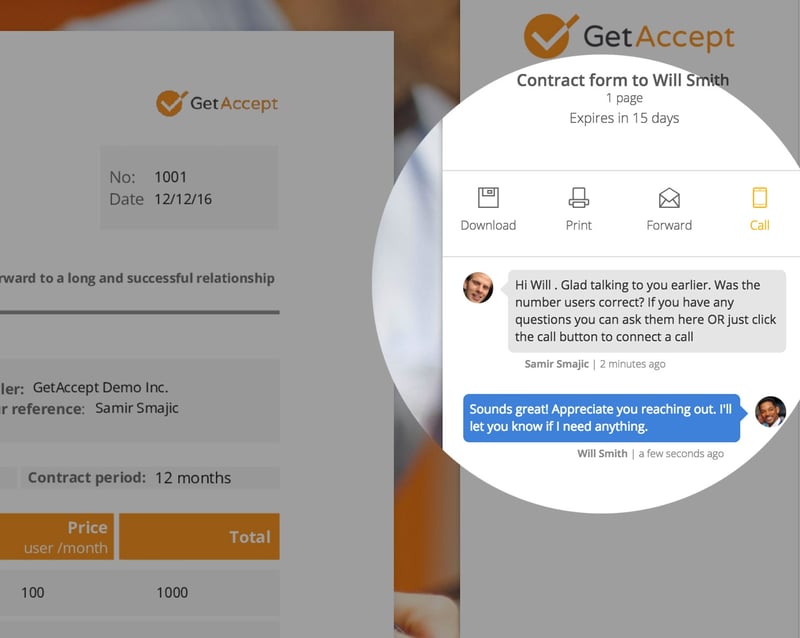 Combine the auto comment and the connected call to and make it easy for the recipient to reach out to you when needed.
With the GetAccept connected call integration, you can make it easy for the recipient to reach out when they need you the most (when they are reading your document). With one click on the call button, we initiate a call between the recipient's mobile phone and yours.
Activate your connected call feature for free today.
GetAccept has got a Facelift
Small changes can make a big difference. Check out if you can notice any changes in the new look. If you want the cheat-sheet, continue reading =)
New style on the main menu, making it easier to see what you are working on
Click a dashboard KPI box and we will show you the documents
A new style for the filter switch in the top right corner
The first stage (draft) in the progress bar has been removed making it simpler to overview
Latest activity icons are now larger and glow in orange when an activity has been registered
You can now see who the sender of a document is in the deal board by looking for the profile picture to the left. If you're missing anyone, tell your colleague to upload a picture on his or her profile page.
You can now see the recipient's role in the deal board
Do you want to extend the expiration date? Click on the expiration date and pick a new one.
The checkboxes have a new "check" look
As an administrator, you can now filter your deal board by teams or individual users. Just click the user icon in the top right corner.
Do you have any thoughts on how to make GetAccept even better? Share them in the comments section below or add them to the feedback tab section.