The sales process has experienced some radical transformations in recent years. According to a recent survey from McKinsey, more than 75% of decision-makers prefer digital human interactions and self-serve options over in-person meetings. In fact, most sales interactions are now taking place in digital spaces.
One way sales teams are frequently moving towards digital selling channels is the use of a digital sales room. Digital sales rooms are secure online platforms for sellers and buyers to communicate and negotiate over a sale. These interactive spaces act as a hub for sales teams and decision-makers to engage during the sales cycle.
Many businesses now recognize the numerous benefits of digital sales techniques and have adapted to the change. Others may be wondering whether the trend represents a permanent change. Let's check out a few reasons why digital sales rooms are the future of selling.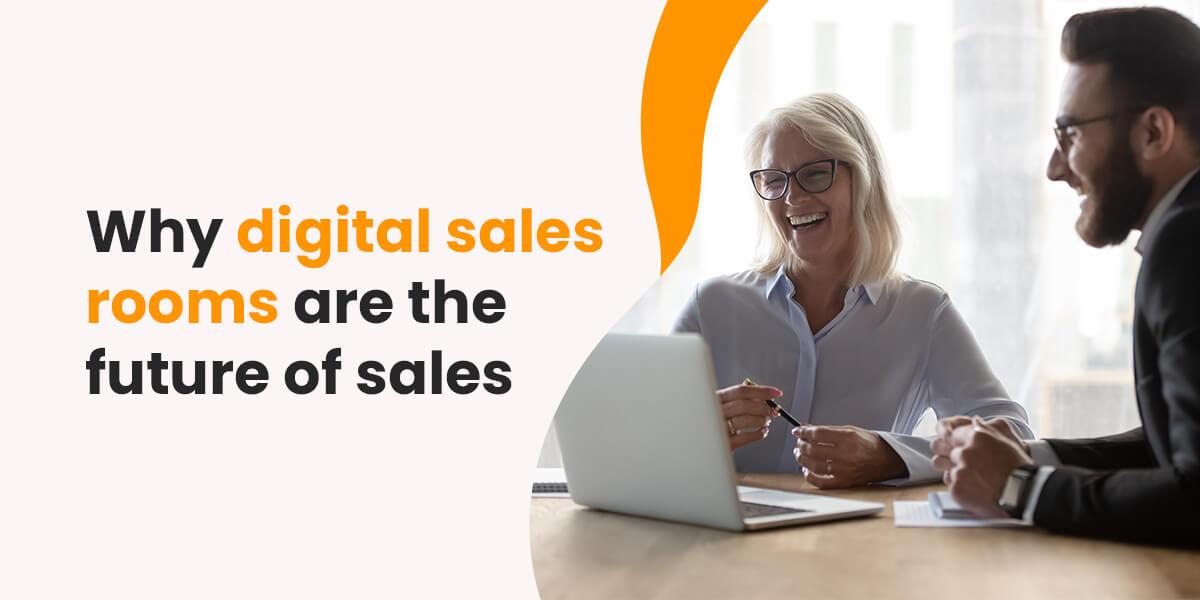 8 reasons why digital sales rooms are the future of sales
Digital sales rooms are more than temporary solutions for alternatives to in-person meetings. This technology is here to stay, and employing it in your company's sales strategy can deliver a host of benefits. Using digital sales rooms can significantly increase sales acceleration to revenue. Here are the top eight reasons why digital sales rooms are the future of B2B sales:
1. Makes sales easier for both parties
Convenience is probably the biggest reason for the popularity of digital channels. Digitization impacts nearly every aspect of our lives, from watching movies to seeing the doctor. These online services are helpful because they're more accessible than in-person business, which is also true for digital sales rooms.
Without the need to schedule face-to-face sales meetings, buyers and sellers communicate in their time and on their terms. This benefit is compelling for several reasons, including that digital sales rooms:
Require fewer resources from sales reps: Sales organizations benefit from the lightened demand digital channels place on their resources, especially for travel costs. Digital sales rooms also enable sales teams to use digital media to communicate and demo their products. This saves reps from additional costs associated with in-person selling techniques, like printing costs.
Are convenient for decision-makers: Digital sales rooms are also more beneficial for potential buyers. Many technological advances can now better support the buyer's journey through a company's sales funnels. For instance, a shared link makes digital sales rooms entirely secure. Stakeholders can easily enter the digital sales room at any time and browse the included content. Buyers are also free from the travel costs of in-person meetings.
Enable more flexible scheduling: Another significant benefit of digital sales is the ease of scheduling. Face-to-face sales pitches rely on meetings, conferences, and trade shows. Since committees rather than individuals now make many B2B sales decisions, coordinating these schedules for an in-person meeting becomes much more difficult. Digital sales rooms eliminate this complexity by enabling sales teams to upload content ahead of time so stakeholders can look through it before any meeting happens.
Empower remote sales teams: A digital approach to sales also allows companies to assemble more agile sales teams. Removing the need to meet in-person opens opportunities for internal and external sales reps from across the country or the world.
2. Helps with visual selling
A key strength of the face-to-face sales cycle was the visual aspect. A sales rep demoed a product live and immediately addressed potential questions as they arose. Visual selling is a powerful tool for encouraging potential buyers to close the sale.
Many companies use demo videos or share their screen during video conferences to make up for the loss of live product demonstrations. Yet even these approaches are falling short. Digital sales rooms have far greater potential to help sales teams tell their product's or service's story. These platforms do more than display virtual presentations.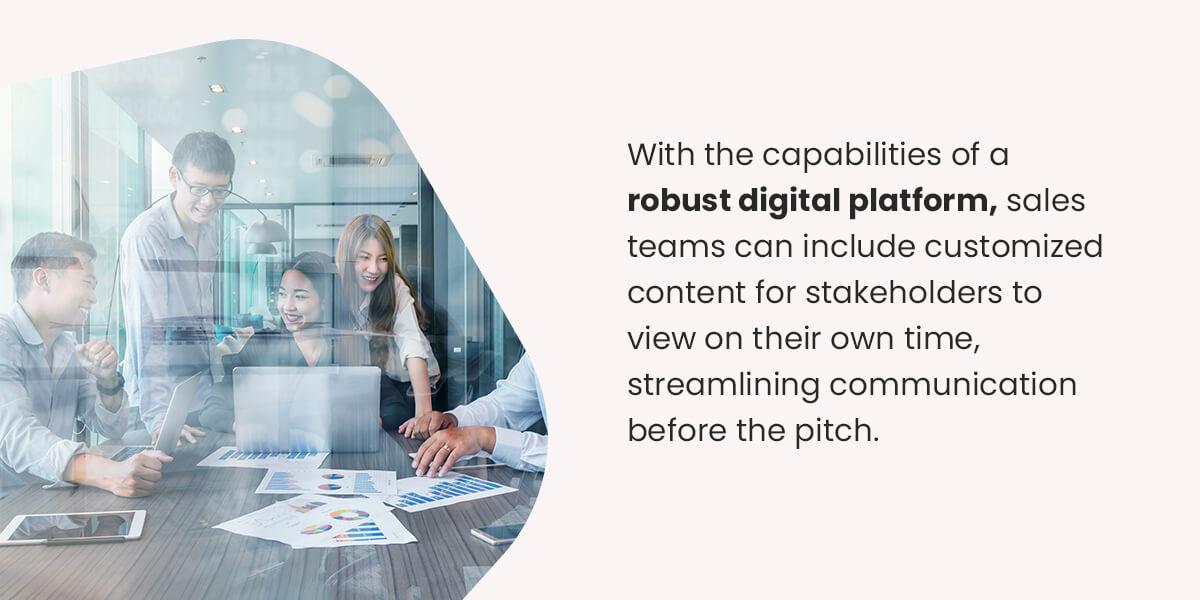 With the capabilities of a robust digital platform, sales teams can include customized content for stakeholders to view on their own time, streamlining communication before the pitch. Content can consist of personalized videos, pre-recorded company presentations, statistics-laden case studies, and other online channels like company podcasts. Consolidating these marketing materials gives your company an edge over the disorganized competition.
3. Helps mitigate buyer concerns more actively
It's natural for potential buyers to have questions about the products and services they're considering. When your sales team answers these questions swiftly and comprehensively, it increases their ability to determine the buyer's interest and whether the company can adjust to their needs. Sales teams need to unite buying committees over their product, which is sometimes tricky when decision-makers have different concerns.
Sending emails back and forth works, but it isn't the most efficient or personal way to make buyer relationships. Digital sales rooms give sales teams the tools to address buyer concerns and bring decision-makers together. Through digital channels, sales teams can:
Communicate with potential buyers in real time: Making direct eye contact and sharing a smile goes a long way in improving communication with potential buyers. In digital sales rooms, sellers can conveniently answer questions through chat or conduct video meetings. This ability to interact in real time is more personal than emails or phone calls. Digital sales rooms also allow sales teams to leverage speed in addressing buyer concerns and keep the sales process moving forward.
Have more natural touchpoints: Having multiple meetings with all decision-makers throughout the sales cycle can be nearly impossible. Your sales team can have multiple touchpoints with the entire buying committee through a digital sales room that connects all the stakeholders. The platform enables updates and negotiation with all stakeholders.
Increase frequency of communication: Momentum is crucial for driving a sale. Stakeholders might be reluctant to close a deal, and it's essential to keep the process moving. Increasing tension by maintaining frequent communication helps potential buyers stay on track and make decisions faster. A digital sales room streamlines the process and enables faster communication between sellers and buyers.
4. Broadens the potential customer base
Another significant advantage of digital sales is the potential for scalability. Sales reps are no longer limited by travel expenses or physical location. Digital channels allow companies to increase sales while reducing travel expenses. Sales organizations can expand their reach further into the market to bring in new clients and customers.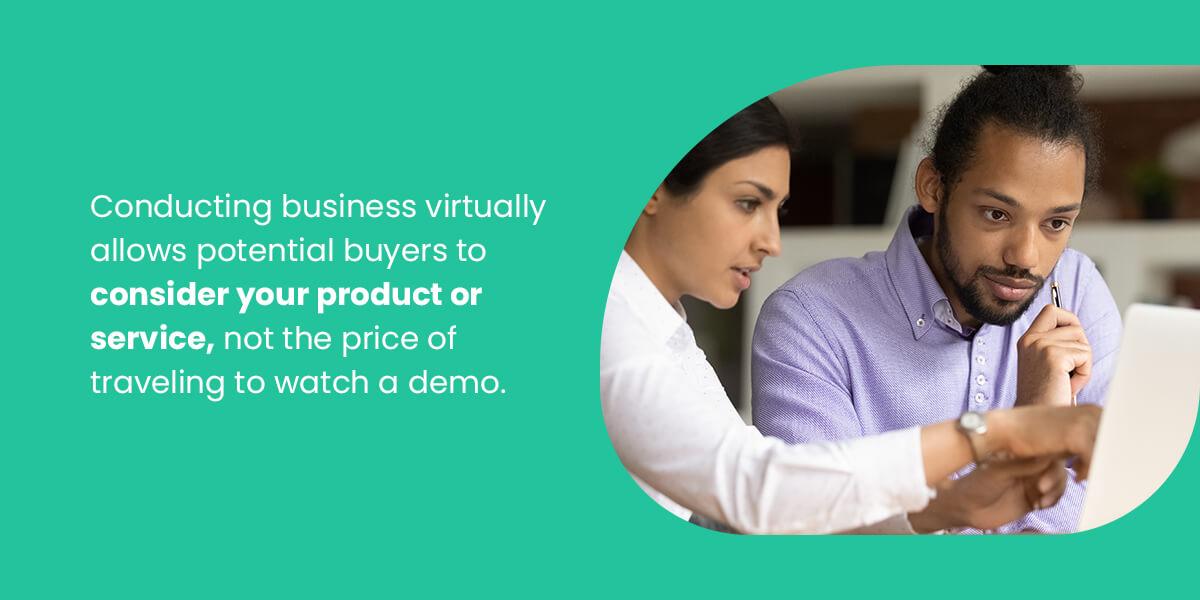 Digital sales rooms eliminate the distance between your sales team and potential buyers. This is a massive advantage because it breaks down some barriers to a sale. For example, if stakeholders are dealing with fewer resources than usual, any additional costs might end a potential sale right away. Conducting business virtually allows potential buyers to consider your product or service, not the price of traveling to watch a demo.
Digital sales rooms also allow teams to collaborate remotely, positively impacting your sales. The potential to increase sales and broaden your company's customer base can boost productivity and significantly impact the bottom line.
5. Empowers better data analytics
The future of B2B sales relies upon data analytics. Like many digital tools currently available, digital sales rooms enable users to gather customer activity data and track sales engagement.
Digital sales room analytics provide insight into the progress of a deal. Understanding how potential buyers are interacting with your proposals and communicating means you gain insight that can help you drive the sale and improve your sales methods.
Empowered with a detailed analysis of stakeholder activity, your sales team can track:
How frequently stakeholders interact with your customized content.
Actions a prospect takes with your sales proposal, including downloading or forwarding.
The amount of time a potential buyer interacts with your proposal.
Whether stakeholders watched your introductory content.
Who has viewed the proposal.
Gaining this kind of access to information revolutionizes the sales process. When the sales team automatically collects this kind of data, they can effortlessly review it at a glance when making decisions.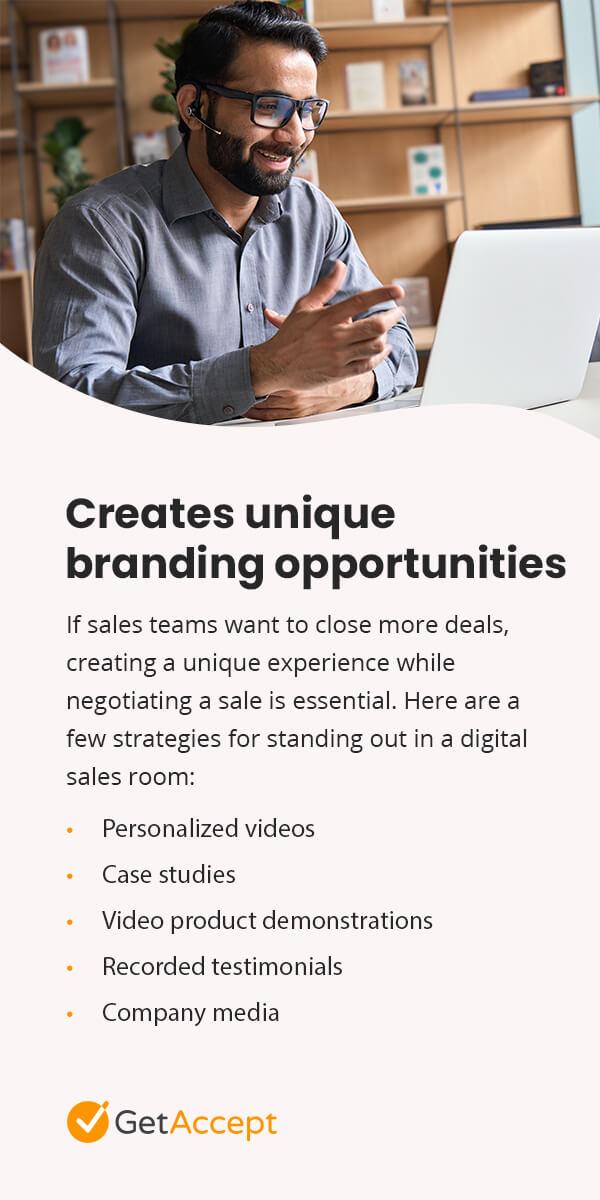 6. Creates unique branding opportunities
Modern customers are flooded with options and well-informed about them all. It will take creativity, tenacity, and unique sales strategies to catch their attention — and close the sale. Face-to-face sales outshine other forms of communication in adding that personal, human touch. Digital sales rooms increase these opportunities for sales reps to stand out from the pack.
Sales teams need to understand the unique ways of creating branding opportunities remotely. When a sales rep communicates their unique brand, they strengthen the business relationship and make potential buyers more likely to engage. Personalized messages, videos, and other content make potential buyers feel valued. Sales reps can observe interactions with potential buyers online and learn which products the buyer is most interested in.
If sales teams want to close more deals, creating a unique experience while negotiating a sale is essential. Here are a few strategies for standing out in a digital sales room:
Personalized videos: Sales videos can be highly effective, especially when personalized for the audience. When a sales team sends a personalized video, they build a relationship with the prospect. A sales rep can include this video in the digital sales room or send it via email to boost email engagement. Either way, videos add a human touch and slice through the digital clutter.
Case studies: Including statistics-driven case studies in your digital sales room is an excellent way to jumpstart the presentation. Potential buyers can browse your product's branded case studies to understand the specific ways your company can help them.
Video product demonstrations: Action is better than talk. Use product demo videos to show prospects why your product is so amazing. Then when your potential buyer is ready for a live video conference, they'll already have an understanding of your product.
Recorded testimonials: Audio is another powerful tool for the digital sales room. Your sales team can record quality testimonials from current or past customers to communicate another perspective on your product's benefits.
Company media: If your company has other media like a podcast or YouTube channel that could help strengthen its brand, include links in your digital sales room. These forms of media are extra opportunities to demonstrate your product and your company's brand.
Even with all of these tools, sales reps still need to be themselves. Potential buyers will likely be unimpressed with an hour-long demo that repeats stats like a broken record. Add a human touch by being authentically yourself and connecting over personal details. Make a personal effort, and the digital sales room can become an opportunity for authentic connection.
7. Enables automated marketing
Another way digital sales rooms make the sales process easier for sales teams is through automated marketing. Outreach and online communication can be time-consuming and aimless if your team doesn't have a goal. Digital sales software allows you to automate your online marketing and effectively carry out your marketing strategy remotely.
With digital sales room software, sales teams can:
Create content like emails, video messages, and social media posts.
Schedule content to send or post at specific times.
Target prospects with different media in each stage of the sales cycle.
Answer buyers' questions with directed content at every step of the buyer's journey.
Aim more of your efforts on potential buyers who interact more with your content and are more likely to make a sale.
Convert more leads and grow your business.
Automatic marketing enables sales teams to control when prospects see their content. This can help boost sales engagement and improve connections with buyers.
8. Facilitates a memorable buyer experience
Digital sales rooms are the future of sales because they ultimately create a more memorable buyer experience that's also wonderfully convenient. By opening a link, your prospect can access your customized content like proposals, videos, and case studies. But your team has to exercise creativity and take new approaches to online connection if you want to reap the benefits.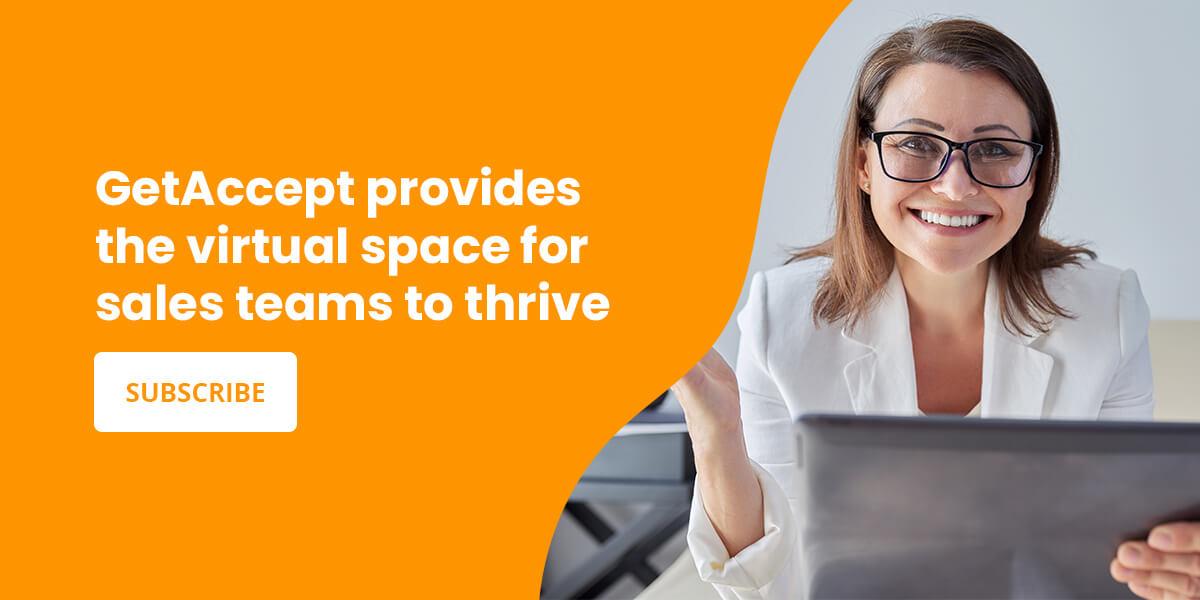 Creating a memorable experience is all about being inventive. Your team might need to take some leaps to stand out and connect with leads and prospects online, but the results can be rewarding. Do your research to find out what everyone else will use in personalized content, then get more creative. Putting in the effort to understand your prospect and their company goes a long way in making a human connection.
GetAccept provides the virtual space for sales teams to thrive
In an increasingly digital marketplace, staying current is the key to thriving. Digital sales rooms are undoubtedly a cornerstone of this new sales landscape.
Digital sales rooms enable convenient remote meetings and provide buyers with a streamlined experience. Sales teams also have the power of advanced data analytics, unique branding opportunities, and automated marketing to address potential buyers strategically.
With online spaces quickly becoming the preferred method for closing a deal, digital sales rooms are the future of B2B sales.
To drive sales through digital channels, your team needs the right tools for the job. To reap the benefits of digital sales rooms, you need a robust sales engagement platform like GetAccept.
GetAccept enables users to boost sales engagement through personalized content, collaboration, and data-driven analytics. Through the all-in-one platform, sales teams gain the ability to provide potential buyers with a seamless digital selling experience and close more deals faster.
With a demo of GetAccept, you'll see exactly how sales engagement can transform how you do B2B sales. Feel free to contact us with any questions!