The observant users already noticed that we release new features more or less every single day. We normally don't make big announcements for each released feature since we want you to find them yourself. Grab a cup of coffee, read this post and write us a comment with feedback.
Chat With Your Customers and Close More Deals


Today you probably use many different chats and messengers to discuss. In the end of the sales process there might be small details left to dicuss like payment terms and so on. So why not make it available directly in your sent document in GetAccept. There are always some questions regarding the deal and to pick up the phone is not always the best option. With the new Live Chat in the documents we make it easy to ask and answer questions or just make yourself available with a message. Try it out on you next sent document.
TIP: Use the automatic commenting when you send a document to show a message automatically when the recipient open the document. Say "hello" and provide your contact information and if they have any question they understand how to ask you directly in the chat.


Brand Your GetAccept with a single Click


To get a really nice and branded look of your emails and document page you can set up your own theme and company branding. To make it easy for you we have added a branding guide helping you to find logo and color scheme by adding you web address in the guide. Try it out in Settings!


Set Individual Reminders per Document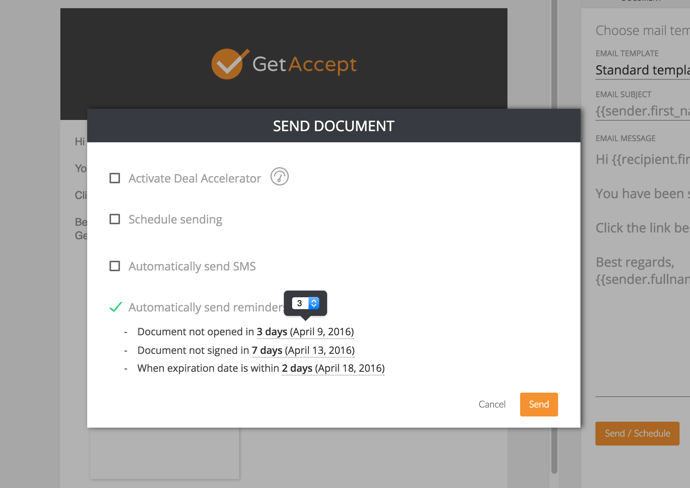 Before you could only turn on and off automatic reminders on a document. Now we have updated so each sending can have tailored reminder settings in case you have a specific timeline for a deal. Click on the number of days in the send-confirmation or change it at a later stage using the document analytics view.


Send a Copy of Signed Documents
Do you have one person in the organization managing all signed documents? Then you should check out the setting to forward all signed documents to one or multiple inboxes automatically. It will save you time and you'll never forget to forward a signed document to the accounting team.


Coach your Sales Team for Success with Reports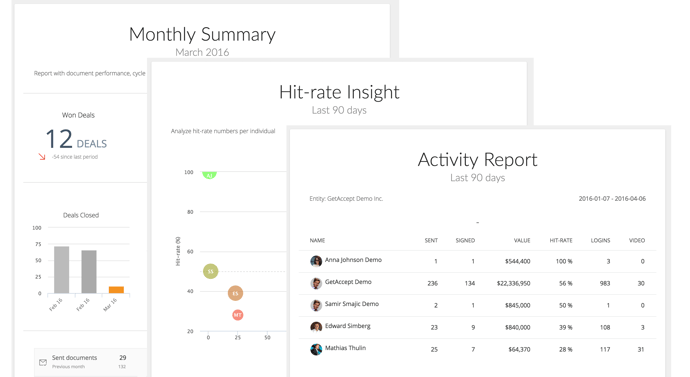 You have asked for reports to keep track of your business and we start out with the following new reports:
Monthly summary: Give you an overview of what you as a user have closed, the hit rate and how you're trending to previous months.
Hit-rate analysis: By comparing sent proposals with closed deals you will get a good overview of who is performing good and who is missing out deals. This knowledge is invaluable to evaluate and help your team to learn from top-performers.
Activity report: See the activity for each user - how many document they've sent, how many got signed, what the value is and what hit-rate they have. You can also see who use video presentations with their documents. Let us tell you a secret; statisticly those users adding video to their sales documents have a 41% higher close rate! That's worth trying it out!


Make it Beautiful and Fun for the Recipients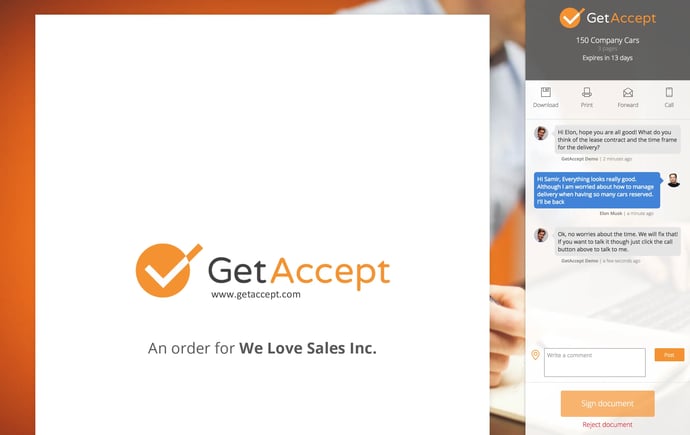 You can now add background images to make the recipient view more branded and beautiful. This gives a really nice and good feeling and you have the opportunity to really stand out from competitors. You can create multiple themes and use for different seasons or special campaigns during a time period.


Communicate Through SMS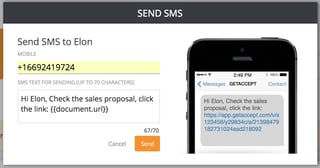 Today many recipients struggle with their email inbox (and we don't blame them considering all "spam mails" sent). To be sure your important documents really reach your recipient you can send text/SMS automatically or manually. Add a cellphone number when adding a recipient and choose to send the document by SMS when doing the sendout. Customers using SMS-reminders have 100% conversion rate than emails-reminders.


We are Where Your Files are
Where do you store your files? To make your workflow more efficient we've made it possible to pick files directly from your file sharing services. When creating a new document just choose import file and chose the service you use.
For those using Google Drive you can also setup an integration where signed documents are saved automatically to a chosen folder in you Google Drive.


View the Sent Email
Did you forget what you wrote when sending the document? No worries, open the document and click on the send-date field in the top bar and you can see what message you sent.


Say Hello to our New Profiles Pictures =)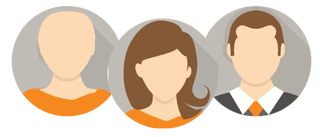 We love details! Therefore we have added a really cool feature making GetAccept more fun to work with. When you add a new recipient we will set the profile picture on the recipient based on the gender. Unnecessary? We love it!