Pressrelease 03-19-2019
GetAccept and G2Crowd are launching a partnership to raise the level of trust experienced by modern buyers when selecting business products and services. GetAccept is a leading provider of content management, proposal and e-signature software and G2 Crowd has the world's leading B2B review platform. Together they hope to increase the authenticity in the world of modern B2B-sales.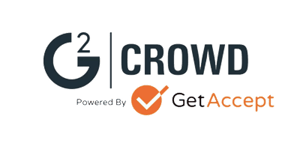 One step of the partnership between G2Crowd and GetAccept is an integration between the platforms. Henceforth, paying customers of both platforms will be able to automatically stream their most relevant customer reviews inside key touchpoints in the buying process.
Third party proof points
Samir Smajic, the CEO of GetAccept states, "In today's market, we see customers yearning for third party proof points - with increased resistance towards marketing and sales messages produced in-house. At the same time, despite this growing trend we feel that customer-facing teams may not have the bandwidth to source and share these stories at scale. That's why this integration made total sense."
GetAccept integrates with G2 Crowd to allow all G2 Crowd customers with an upgraded profile to dynamically stream relevant customer proof points into key moments within the sales cycle. These key moments include but are not limited to: pre-meeting agendas, post-meeting summaries, presentations, RFPs, quotes, proposals, contracts, supporting documents and video messages.
Higher return on investment
G2 Crowd customers using the GetAccept integration will be able to see more return on investment from review programs as the content will have more measurable touchpoints - highlighting impact to win/loss ratios on individual deals where reviews are utilized and increased overall exposure of the content. Additionally, the integration removes human error from the equation - with all sales representatives being supported with automated insertion of relevant customer proof as they navigate sequential deal stages.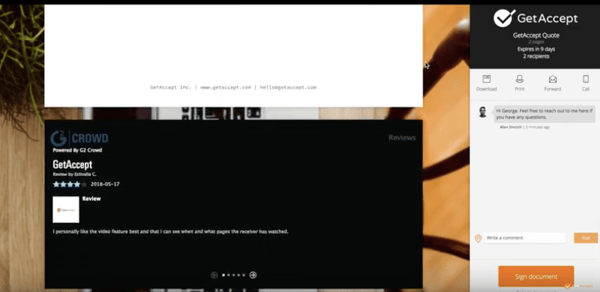 Sigstr is a mutual customer of both G2 Crowd and GetAccept which provides advanced email signature marketing and relationship intelligence software. Justin Keller - VP of Marketing at Sigstr notes, "Most firms only focus on having strong social proof at the start of the buyer's journey. Enabling the Sigstr team to harness the voice of our customers at every step of the way has been a great benefit of this partnership."
GetAccept has also mentioned plans to increase the scope and feature set of this integration with plans for an update in Q2, 2019.
Learn how the integration works and how to set it up right here!
👇

Want more GetAccept? Follow our series Inside Silicon Valley on YouTube!