Sales transactions have come a long way from paper contracts and cash amounts handwritten in balance sheets.
Buyers' expectations are higher than ever, and sales teams need to be prepared to offer seamless experiences from the first touch all the way to the final transaction.
In this blog post, we unpack how sales teams can use quote-to-cash management to streamline the customer journey from the initial quote to cash in hand.
What is quote-to-cash?
Quote to cash (QTC or Q2C) is the term used to describe the end-to-end sales process.
QTC is usually automated, and integrated into different tools in a sales stack, such as a CRM.
Q2C involves many people and stakeholders from both sides of the buying table, including sales teams, buying teams, pricing specialists, and accounting experts.
Though many experts identify different starting points in the Q2C process, it always ends with cash in hand.
Quote-to cash starts with sales enablement
Complex buyers journeys make it challenging to identify where the Q2C process begins.
Quote-to-cash can start with marketing when leads first engage with different marketing and sales collateral, but it also starts with sales enablement.
Sales teams looking to optimize their quote-to-cash management should give sales reps the tools and coaching they need before even having a conversation with buyers.
It all comes back to coaching: sales reps shouldn't be afraid of pricing and discounts when they finally get a buyer to that stage of the journey.
Having materials such as battlecards, playbooks, and pricing matrices ready to go will help sales reps streamline the end of that buyer journey and close deals faster.
Why QTC management is important for sales teams
Quote-to-cash management improves sales pipeline efficiency and helps sales reps meet their targets.
Here are 4 essential reasons why sales teams need an effective system for Q2C:
1. QTC streamlines the handoff between sales and finance departments
Part of the reason QTC can quickly become complicated is that it often involves members of a few different teams at once.

Sales reps are trying to get proposals signed and payments in hand so accounting and finance teams can process orders quickly.

Greg Rozdeba is co-founder and president of digital insurance broker Dundas Life. His experience as a sales director gave him an appreciation for an efficient quote-to-cash process.

"Having a streamlined, automated QTC process minimizes the back and forth between finance and sales, saving time and cost," Rozdeba said.

Quote to cash management with digital tools such as CRMs, sales engagement platforms, and subscription management tools like Chargebee keeps teams with different functions on the same page every step of the way.
2. Quote-to-cash prevents errors and redundancies in invoices
You know how it goes: multiple people input data from different sources, someone adds an extra zero to the price, and before you know it, your sales cycle is twice as long.

Managing a quote-to-cash workflow in multiple environments across different teams is a recipe for error.

Keeping your QTC process as streamlined as possible reduces the opportunity for human error in the quote process. It also helps prevent duplicate information and redundancies in invoices.

An effective quote to cash workflow gives you the peace of mind that your proposals and contracts are correct as they make their way to the customer. Try invoicing software to create quick quotes and invoices, which will improve your financial processes and take your business one step ahead. With intuitive invoice templates, you can cut down on mistakes that cause bottlenecks.
3. QTC saves time for sales teams
Sales reps (like most of us) aren't fans of admin time and tasks.

A 2018 study found that 14.8% of a sales reps' week is devoted to admin time. A QTC process can help reps get some of that time back.

By automating key tasks, digital QTC processes cut down on the manual effort required to create, send, and revise a proposal or invoice.
4. Quote-to-cash provides important data to improve pipeline efficiency
Adopting digital tools also helps sales teams improve efficiency throughout their entire pipeline.

Digital QTC tools provide visibility into pipeline bottlenecks that sales reps can then address.

Do customers take a long time to review and sign contracts? Are orders slow to come through? Managing your pipeline digitally from lead to ledger means you can identify and solve some of these pain points for the next sales cycle.
7 essential steps for effective quote to cash management
Every company approaches Q2C a little differently, but here are 7 common steps involved in the process for B2B companies:
Step 1: Product selection and configuration
One approach has the lead to ledger process beginning at the point a lead enters the sales funnel. At the end of the funnel, though, is when the technical aspects of QTC really begin.

After different interactions within the sales funnel, the QTC process starts when a lead is ready to make a purchase and turns to the sales team for product selection and configuration.

This is the longest step of any in the quote to cash process, starting from the initial engagement and conversion into a lead and ending with a request for a quote.

Sales engagement tools automate interactions through the early stages of the pipeline, helping sales reps manage leads and opportunities. Pipeline visibility helps sales reps be proactive with customized outreach rather than reactive to what the buyer has to say.

It's up to the sales rep, or a CPQ tool, to select and configure the right product for the buyer's needs.
Step 2: Pricing and quoting
Once a product is selected and tailored to the buyer's needs, sales reps work on pricing the final product.

Pricing often goes beyond the basic price thresholds listed in a pricing section of a website. Sales reps often consult their managers and past deals to identify incentives or other discounts to close a deal.

When pricing a product before offering a final quote, it helps to have documentation handy about incentives and discounts that could make the difference.
It also helps to be aware of your competitors' pricing and how your offerings compare.

Once you've settled on a price with the customer, it's time to create and send the quote.

Your quote should be simple, easy to understand, and, above all, accurate. Customers don't like to be surprised by hidden fees or additional charges after initial pricing discussions.
Once the customer approves the quote, it's time to send the contract.
Step 3: Proposal send out
Just like your quote, your proposal should be accurate and easy to understand. It should also focus on what's important to the customer.

Proposals and contracts also need to be legally up to par, especially if your proposal management system comes with eSignature functionality.

Having the proposal and contract in a single document makes it easier for buyers to approve and sign if there's no need for negotiation.

Sales teams could benefit from having proposal templates handy so they can be ready to customize and close deals as soon as the quote is approved.
Make sure the following items are clear in your contract:
Who should sign and where
The agreed-upon price
Any and all deliverables for the customer
You can send proposals as fillable PDFs or digital documents through an eSignature platform. You can even send proposals and contracts directly through your CRM for added insights and automated follow-ups.
Step 4: Contract negotiation and approval
Not every proposal will be perfect. Internal teams might come back with new needs and edits to the contract.

Contract negotiation and final approval are one of the last hurdles sales teams overcome before the deal is won.

Many contract negotiations used to take place in person, but the rise of hybrid work models means sales teams need to be ready for negotiations to take place online.

If working with fillable PDFs, version control when editing proposals will be really important. Live editing and commenting features in different proposal management tools can help sales reps eliminate back-and-forth with the buyer.

Digital sales rooms can also serve as helpful collaboration spaces as you work with the buyer to finalize the contract.
Step 5: Order fulfillment
Once the contract is signed, the deal is closed! Cash might not be in hand quite yet, but it's still a reason to celebrate.

At this point, it's time to deliver the product to the customer. Be sure to include any customizations or special features that you agreed to in the initial contract.

The order fulfillment stage is also when other teams, such as customer success and accounting, enter the pipeline.
Step 6: Billing
The final bill is usually sent to the customer along with the fulfilled order.

Billing usually brings the sales and accounting teams together to put the final quote on the ledger. Attention to detail is key -- an incorrect amount billed can

Digital quote to cash software can automate this process and minimize room for error. Manual billing means constant back-and-forth communication with the customer and accounting teams.

Recurring billing can also help streamline your process if your product is subscription-based.
Step 7: Cash received
Once your customer pays, it's truly time to celebrate! Payment is on the books, sales reps know their commission is safe, and everyone is happy.

It's called a sales cycle for a reason, though, so sales teams will likely be starting this process over again sooner than they think.

Take some time at the end of every cycle to evaluate your QTC management. Did one step maybe take a little too long? Did your team have to deal with a lot of back-and-forth with the customer when creating the proposal? Was the buyer getting impatient at any point?

Identifying pain points will help you improve this complicated and involved process. Your QTC process will be a well-oiled machine before you know it!
How to get your QTC process right
One common stuck point in QTC is going from order fulfillment to invoicing, and finally, to cash in hand. Ensuring customer payment is crucial, but can be challenging and awkward to secure.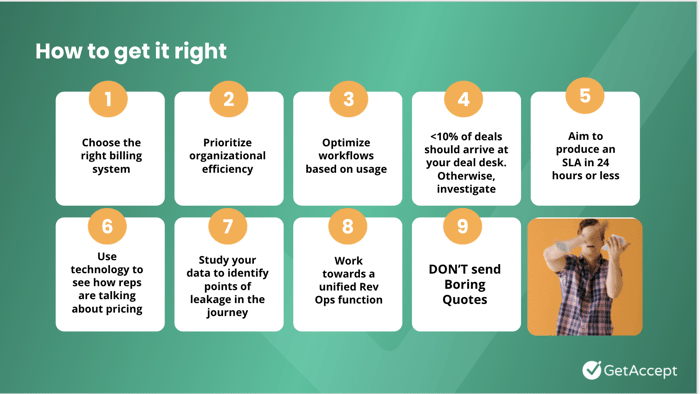 QTC processes can also be very manual, involving many different digital and analog tools at the same time.

Michael Hammelburger, CEO of Sales Therapy, helps marketing agencies and growth hacking agencies improve their close rates and thinks more companies should adopt digital-first QTC management systems.

"It makes everything simplified," said Hammelburger. "You know what you're billing, how much revenue you're getting, and make the entire process visible."

Set time aside at the end of the sales cycle to look for trends and patterns in the quote to cash process.
What tools are necessary for a digital QTC process
To make the most of a QTC process, businesses should identify a few digital tools that will help them streamline operations, decrease sales cycle times, and provide valuable insight into the overall sales process.

"The right technology can help streamline your QTC process by giving both the sales and finance teams visibility into the other half of the process," said Rozdeba.

When it comes to digital tools, though, less is more. What you don't want is to move your cumbersome, manual pricing, contract, and billing processes to several different automated platforms that you then have to manage individually.

It can also be tricky to find an all-in-one Q2C management system that fits your sales team's specific needs.

Instead, narrow your tools down to three distinct categories, as recommended by QTC solution Conga:
Configure, price, quote (CPQ) solutions
Contract and proposal management solutions: approval workflows
Revenue and billing solutions
Many of these three types of digital tools also integrate with CRMs, such as Salesforce and Pipedrive, allowing you to manage your QTC process from a single environment.
What's the future of quote-to-cash?
Quote-to-cash is evolving with the changing sales landscape. Remote and hybrid sales interactions started during the COVID-19 pandemic are here to stay.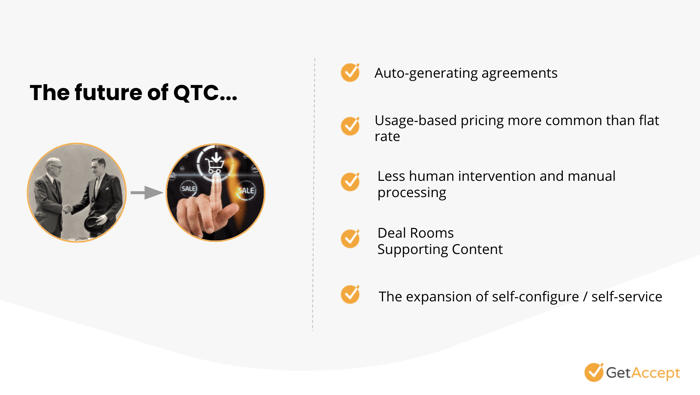 Automation will become critical for sales teams to maintain an agile quote-to-cash process. It's not always enough just to be digital: you now have to automate save time wherever you can to get cash in hand.
Usage-based pricing will grow in popularity as more companies adopt subscription models and buyers want increasingly customized experiences. Think about it like your monthly Netflix price (a flat fee) versus your utility bill, which varies based on how much energy you use. More companies are looking to move towards consumption-based pricing.
Deal rooms and digital sales rooms will emerge as a new online sales environment to communicate pricing and quotes effectively. Video and live chat features will help sales reps give traditional invoices an engaging and personal touch.
Customers may also start to self-configure pricing bundles before sales and internal teams approve to increase feature customization.

Ultimately, the future of quote-to-cash is all about reducing time to value and making it easier for people to start using and gaining value from a product.
Optimize your quote-to-cash management for smoother sales transactions
Q2C doesn't have to be complicated. A few simple tools combined with the magic of automation means your sales reps minimize clawbacks and take more deals from lead to ledger.
Quote-to-cash management starts with sales enablement. Empower your sales team with battlecards, pricing matrices, call coaching, and just in time content to help them address customer needs while configuring a price.
Digital tools and automation are a sales rep's best friend when it comes to QTC. Use digital solutions to understand your pipeline and improve on existing bottlenecks.
Finally, be willing to adapt to the changing landscape of sales. Invest time and energy into finding a process that works for you.